Are you planning to go for adventurous treks in Nagaland in Northeast India? If yes, you have come to the right place.
In this article, you will learn about the Nagaland Treks mainly – Mt. Saramati Trek, Mt. Japfu Trek and Dzukou Valley Trek and Kapamodzu Trek.
Nagaland is known as the land of festivals. You might have definitely heard of Dzukou Valley and the annual held Hornbill Festival.
The 10-day Hornbill festival showcases the diversity of language and culture among the 16 major ethnic groups and their sub-tribes.
The state of Nagaland falls in the Purvanchal Range, a sub-range of the Himalayas in Northeast India. It has huge scope for adventure tourism especially in hiking and trekking trails.
Mt Saramati (3841m) and Mt Japfu (3048m) are the highest and the 2nd highest peak of Nagaland respectively.
After planning for the treks, make sure to apply for ILP on Nagaland's Government Website. For 15 day permit it costs Rs 50, and for a 30-day permit – Rs 100 only.
Trekking in Nagaland – List of Treks & Guide
The following guide to the treks is based on my personal experience. I have climbed to each one of them. I hope this article helps you in planning the treks.
1. Mount Saramati Trek
Mount Saramati, the highest peak of Nagaland has an altitude of 3826 metres above sea level. Saramati Peak is located at the India-Myanmar Border in the Kiphire District of Nagaland.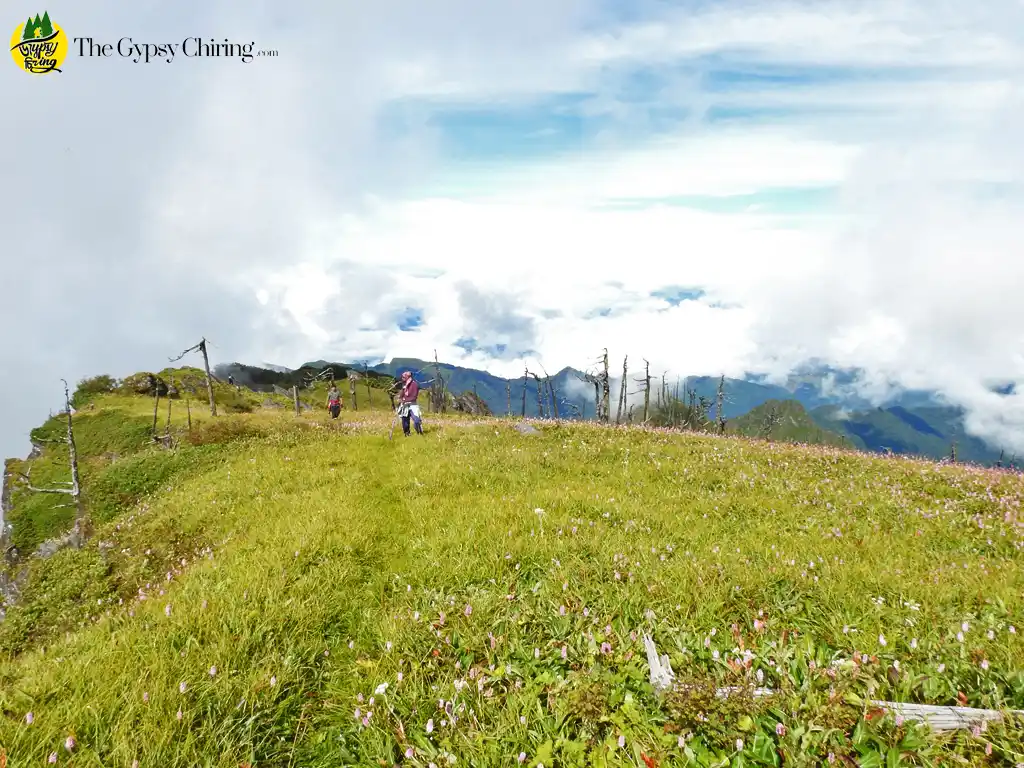 I completed the Mount Saramati trekking expedition in the year 2016. It was my first high-altitude trek and my first visit to Nagaland.
For your convenience, I have tried to answer all the questions regarding Mount Saramati Trek in the form of FAQs.
FAQs on Mount Saramati Trek
Where does the Saramati trek start?
The Saramati trek starts from Thanamir Village in the Kiphire District of Nagaland.
How to reach Thanamir Village for the Saramati trek?
You can reach Thanamir Village by hiring a sumo vehicle from Pungro town. To reach Pungro, you have to go by hire a sumo vehicle from Dimapur. Read this travel guide on the Saramati Peak Trek to know about the trek in detail.
How many days does it take to complete the trek?
It is a minimum of a 3-day trek from Thanamir Village to the Peak and back to the village. From Guwahati to Guwahati in Assam, it would take 7 days in total.
What is the best time to do the Saramati trek?
The best time to do the Saramati trek is from the Month of September to March. We saw flowers blooming in the month of September. In Winter it snows at the peak.
How much does Mount Saramati Trek cost?
The expenses of the Saramati trek range from 15 to 20 thousand.
Is the Mt Saramati trek difficult?
The difficulty level of Mt Saramati Trek is moderate to hard. The terrain is different compared to other trekking trails in India.
Is Saramati Worth Trekking?
Yes. It is a challenging and unique trek. Steep terrains, uneven trails, a view of Myanmar and the culture of the Yimchungru ethnic group at Thanamir Village are worth it.
Whom to contact for a local guide to Saramati Peak?
Once you reach Thanamir Village, two guides are provided by the village authority. You have to pay them of course.
2. Mount Japfu Trek
Mount Japfu is the 2nd highest mount in Nagaland. In recent news, it was claimed that there are other unmeasured peaks higher than the Japfu peak in the Tuensang district of Nagaland. Officially, as of now, Japfu is the second highest.
Japfu Peak has an altitude of 3048m above sea level. It is located in the Kohima district of Nagaland. The parent mountain range of Japfu is Barail Range which also extends to Assam's Haflong district, Nagaland, Manipur and Meghalaya.
Read my trekking experience and detailed guide to Japfu peak trek. I summited the Japfu peak in January 2020.
FAQs on Mount Japfu Trek
Where does the Japfu Peak trek start?
Japfu Peak trek starts from Kigwema Village from the Japfu Christian College road in the Kohima district of Nagaland.
How to reach Kigwema for Mt Japfu Trek?
The starting point of the Japfu trek in Kigwema is at a distance of 15 km from Kohima's Inter-State Bus Terminal (ISBT). You will get shared sumo and cabs from the bus stand to Kohima and to Kigwema.
Whom to contact for a local guide for the Japfu trek?
You can contact the homestay owners in Kigwema such as Greenwood Villa, Dawn Homestay and others. Feel free to contact me on Instagram if you need more help.
Is the Japfu Peak trek difficult?
It is relatively easier than Saramati Trek. However, it is tougher than Dzukou Valley. Like the Mount Saramati trek, Japfu also requires you to use rock climbing skills to ascend two rock walls near the peak.
3. Mount Kapamodzu Trek
Have you heard of the highest town in Nagaland? It is Pfutsero in the Phek district. Kapamodzu Peak is located in Phek district of Nagaland.
The height of Kapamodzu Peak is 2,620 m (8,596 ft). The state government's tourism website also mentions it to be the highest tabletop mountain in Nagaland.
I visited Kapamodzu Peak in December 2021. If you go in the summer months, you will get to see colourful flowers and greenery everywhere.
Video of Kapamodzu Trek by Jacob Mero
FAQs on Mount Kapamodzu Trek
How to Reach Kapamodzu Peak?
There are two ways to reach Kapamodzu Peak – Via a 4×4 vehicle and trekking from Pfutsero town.
How to reach Pfutsero?
After you reach Kohima from Dimapur, you can head to Pfuerso by Sumo and bus or by your own car.
Is Kapamodzu Peak worth visiting?
A 100% Yes. The view from the top of Kapamodzu Peak is epic. You get to see the range of hills of both Nagaland and Manipur. Saramati Peak and Japfu Peak can also be seen from Kapamodzu.
What is the best time to visit Kapamodzu Peak?
The best time to visit Kapamodzu Peak is during the Summer months for flowers. In Winter, you will get to see frost early morning and snowfall if lucky.
Is the Kapamodzu trek difficult?
The trek to Kapamodzu is relatively easier than Japfu and Saramati.
4. Dzukou Valley Trek
Dzukou Valley is the most popular trek in Nagaland. Every traveller adds the valley to their Northeast India itinerary.
Dzukou Valley also known as Dziikou is located in the Kohima district of Nagaland. The valley shares its borders with the neighbouring state of Manipur as well. It is located at 2452m above sea level.
I have been to Dzukou Valley 5 times so far and in different seasons. The experience and the scenery were unique each time.
FAQs on Dzukou Valley Trek
How to reach Dzukou Valley?
Dzukou Valley can be reached via two trekking trails – Viswema and Jakhama. The latter is steeper and takes more time to reach.
How to reach Viswema or Jakhama for Dzukou Valley Trek?
Jakhama and Viswema are adjacent to each other. You can reach both these places by boarding a shared sumo from Network Travels AOC bus depot in Kohima.
How long does it take to climb Dzukou Valley?
It depends on your personal pace. On average, it takes around 3-4 hours to reach the valley.
Can we reach Dzukou Valley by car?
No. You can take your Jeep or sumo vehicle to a certain point in both Viswema and Jakhama trails. The majority of the trail involves trekking and ascending the hills.
Which month is best for Dzukou?
I have been to Dzukou in different Seasons. I loved Dzukou during the month of June as there is less rain and the rare Dzukou lily flower starts blooming at this time.
Winter is also a good time. I got frost and frozen rivers in the month of December and February. It also snows every year in January at Dzukou Valley.
Which is the highest point in Dzukou Valley?
The highest point in the Dzukou Valley that is permitted to climb is the Watchtower. You will get a panoramic view of the entire valley from the watch tower.
Whom to contact for Dzukou Valley Trek?
What is the Dzukou Valley Trek difficulty?
Dzukou Valley Trek falls in an easy trek compared to other treks in Nagaland.
How to reach Nagaland?
The common destination to start all the treks is Dimapur followed by Kohima.
Book Your Bus, Train or Flight Tickets with 12Go Asia
By Air
Dimapur Airport is a regional airport with direct flights from Kolkata and Guwahati. The airport is located about 64 km from Kohima town.
By Rail
There are two Railway stations to reach Kohima – Dimapur Railway Station and Shokhuvi Railway Station. Both are located at a distance of 69 km and 68 km respectively. However, the distance between the two stations is 23 km.
By Road
Both Dimapur and Kohima are well connected by roads and public transport. You can get a direct bus from Guwahati to Kohima.
Tips for Nagaland Treks
Physical Fitness and Acclimatization
Acclimatization is key to remaining healthy during your treks. Always stay in Kohima or higher towns for a day or two before heading to the summit a peak in Nagaland, especially Mt. Saramati.
Physical fitness and mental strength is another important factor while trekking in Nagaland. Dzukou Valley and Kapamodzu Peak trek are relatively easy. To do the Saramati and Japfu trek, being physically fit will ensure you do the trek faster and enjoy the landscapes more.
Packing Essentials
Always pack only the required clothes, that are lighter and that dry quickly. Following are a few things to carry during your treks –
There is less water availability during Japfu and Saramati Trek. You will get drinking water at Dzukou both during winter and summer.
Keep yourself hydrated and carry dry fruits so that you can energize yourself during the trek.
Local Guides and Entry Permits
Hiring local guides ensures your safety during the treks. You will not only learn about the place but also about the different Naga cultures.
Apart from Inner Line Permit (ILP) make sure you take the entry permits to remote places from the concerned authorities. Entry fees can be paid at the starting point of the trek.
Places to Stay in Kohima
Price Range Rs 5k and above
Khrie_si Ki – Home away from Home
Price Range Rs 3k to 5k
Niraamaya Retreats Aradura Kohima
Price Range Rs 1000 to Rs 2999
Mechuki Backpacker Hostel by trulynaga
Price Range Rs 500 to Rs 1000
The Pyrus homestead 63 Ranthüza
Central Guest House for Backpackers
Conclusion
Nagaland is home to beautiful hill stations such as Kohima, Pfutsero and Mokokchung. The diversity and vibrant culture of Naga ethnic groups have been able to attract tourists.
I have realized that people mostly trek to Dzukou Valley only. There are also other places for trekking in Nagaland such as Mount Saramati, Mount Japfu and Mount Kapamodzu.
New Places for Trekking in Nagaland
1. MOUNT TOTSU, Wokha District
2. MOUNT KHELIA KINGNIU, Noklak District
I hope the article has helped you in planning your Nagaland treks. Share it with your friends and adventure buddies.
P.S.: The post contains affiliate links through which I earn commissions to sustain this website.