The Gypsy Chiring Travel Blog
Pronam, Namaskar & Kardom!
A travel Blogger based in Assam, India, Joydeep Phukan is the creator of "The Gypsy Chiring"
The word "Gypsy" ("যাযাবৰ" in the Assamese language) means nomad. While Chiring is the term signifying my lineage of Ahom roots. The logo of The Gypsy Chiring starts with the letter জ and চ of the Assamese alphabets. Kardom refers to greetings in Karbi dialect of Assam. This travel blog is my way of representing my love for travel, culture and nature.
With an academic background in Anthropology, and a passion for culture and outdoor adventure, I started "The Gypsy Chiring" to share about the beautiful and diverse Northeast India with the world.
Being from the Northeastern region of India, I have learned that people from other regions are unaware of our cultures, fascinating landscapes and the diversity of Northeast India.
The term "Cultural Relativism" in Anthropology says that we should not view or judge a culture or a cultural attribute based on our own cultural practices. We must rather understand other cultures based on their cultural context, more so through a local's perspective.
The Gypsy Chiring is my way to represent Northeast India ethically and authentically.
Do you have queries about your trip to Northeast India? Do you love adventure travel?
If Yes, The Gypsy Chiring travel blog is your source for tips and soothing stories on travel, adventure and culture of Northeast India and the world.
Apart from Northeast India, you will also find articles about other parts of India and from around the globe; regarding travel tips such as travel essentials, camping tips and blogging. Welcome to the plethora of thrilling experiences and soothing stories.
I intend to promote the less-explored and off-beat destinations of Northeast India. Expressing authentic moments with nature, places and culture is my passion.
It is also a platform for enthusiast writers and travel bloggers to get their work published, thereby developing together through collaborations.
Northeast India is pristine in regard to its ethnic diversity, nature-human relationship and art forms. The Gypsy Chiring is my platform to know, learn, understand and promote the essence of Northeast India through a local's perspective.
What I do? (freelancing)
Travel Writing
Social Media Management
Content Writing
Trek & Tour Guide
In case, you want to say hi or discuss travel and collaborations, greet me at "[email protected]"
Do you want to know more about offbeat Northeast India?
If Yes, Subscribe to our monthly email newsletter.
---
FEATURED ON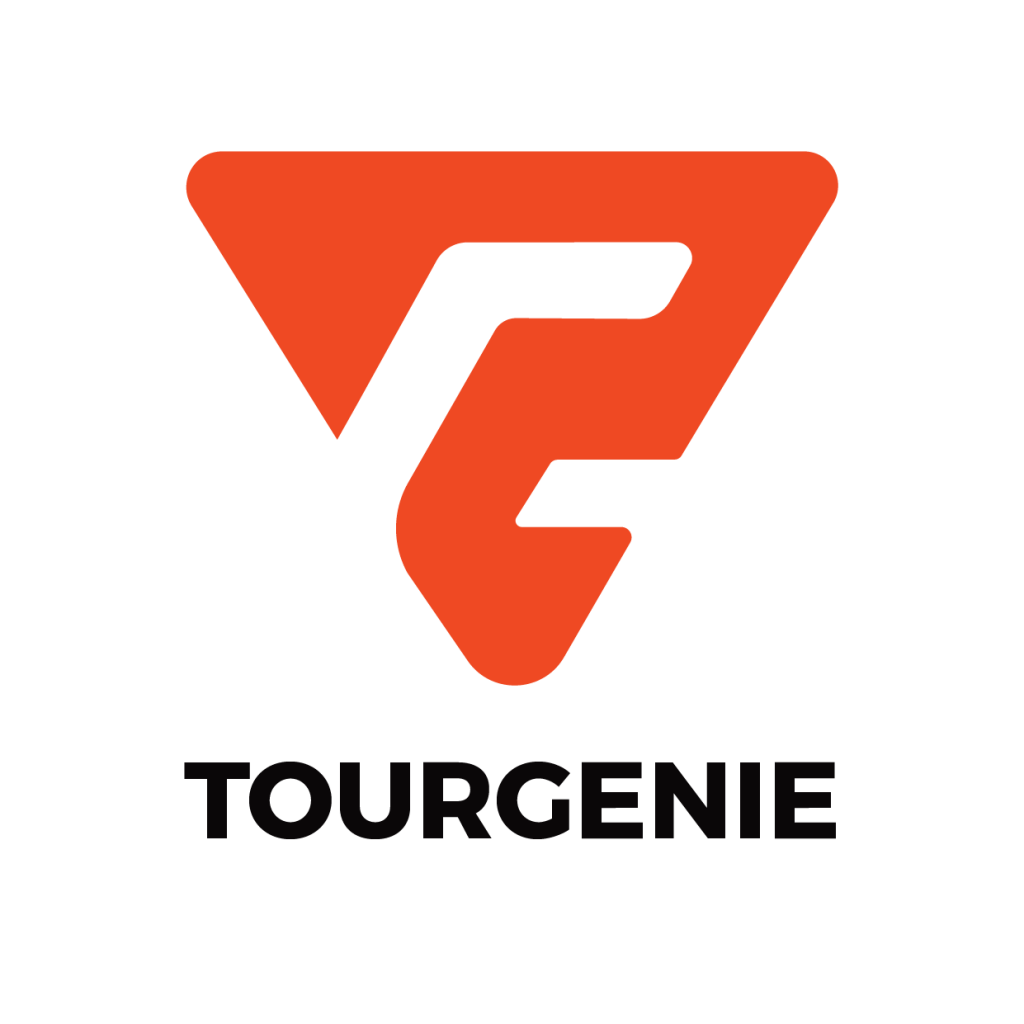 Top 100 Indian Travel RSS Feeds
Article on 'HORIZON' of The Assam Tribune: Conquering Mount Saramati.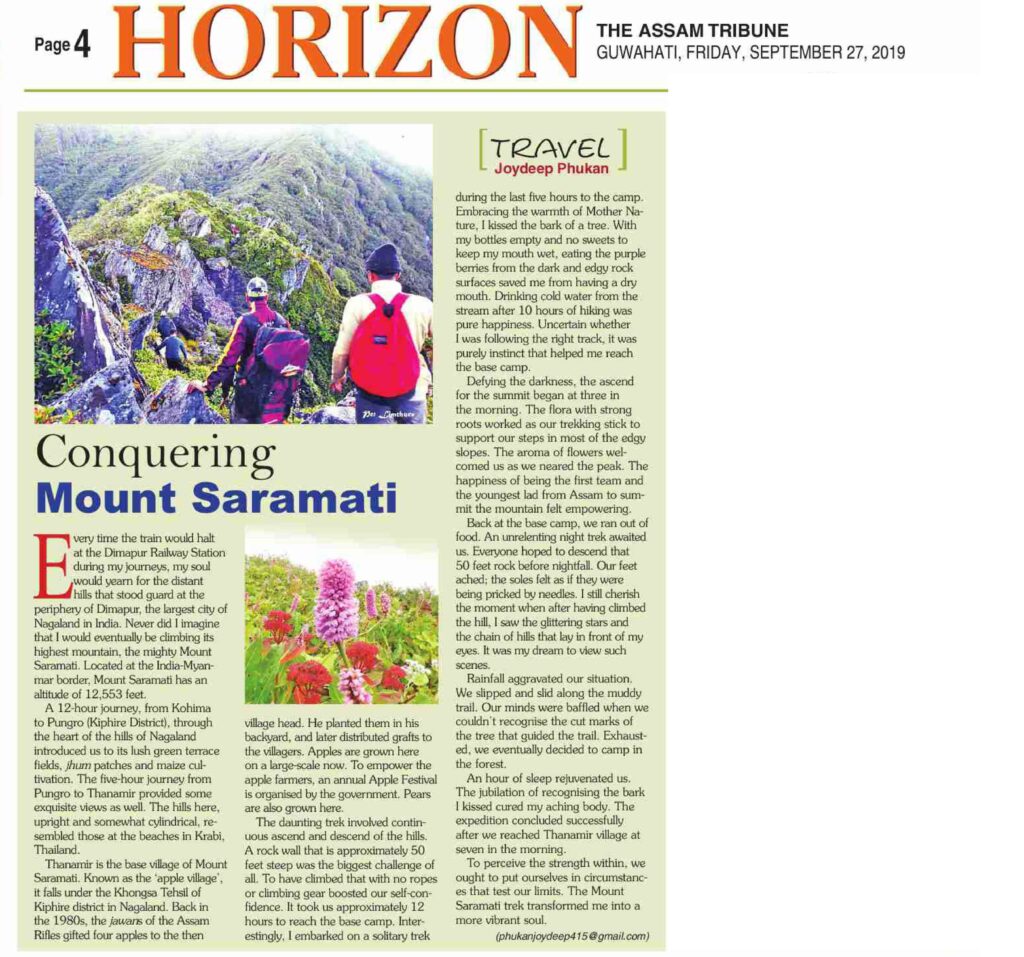 Read the full article on Mount Saramati- the highest peak of Nagaland here.
The Gypsy Chiring has written three articles for Tourgenie Website.
You can find the link to two articles about my Dzukou Valley experience that I wrote for Tourgenie here:
Four Souls One Paradise – Dzukou Valley & Dzukou Valley in Pictures | Story of 4 Backpackers in Nagaland.
---
AWARDS
Winner – August Travel Writing Competition, 2021
By Meghalaya Tourism
Theme: Lessons on Independence from Solo Travelling
I wrote about how Solo Traveling is the Architect of my Growth.
I shared how it has shaped my personality and has been helping me grow both personally and professionally.
---
Winner: Travelopedia – A Travel Writing Competition, 2018
By Department of Tourism Studies, Pondicherry University.
Occasion- World Tourism Day Celebration, 2018.
I wrote about how the trekking experience to the offbeat and the highest peak of Nagaland – Mt. Saramati empowered me.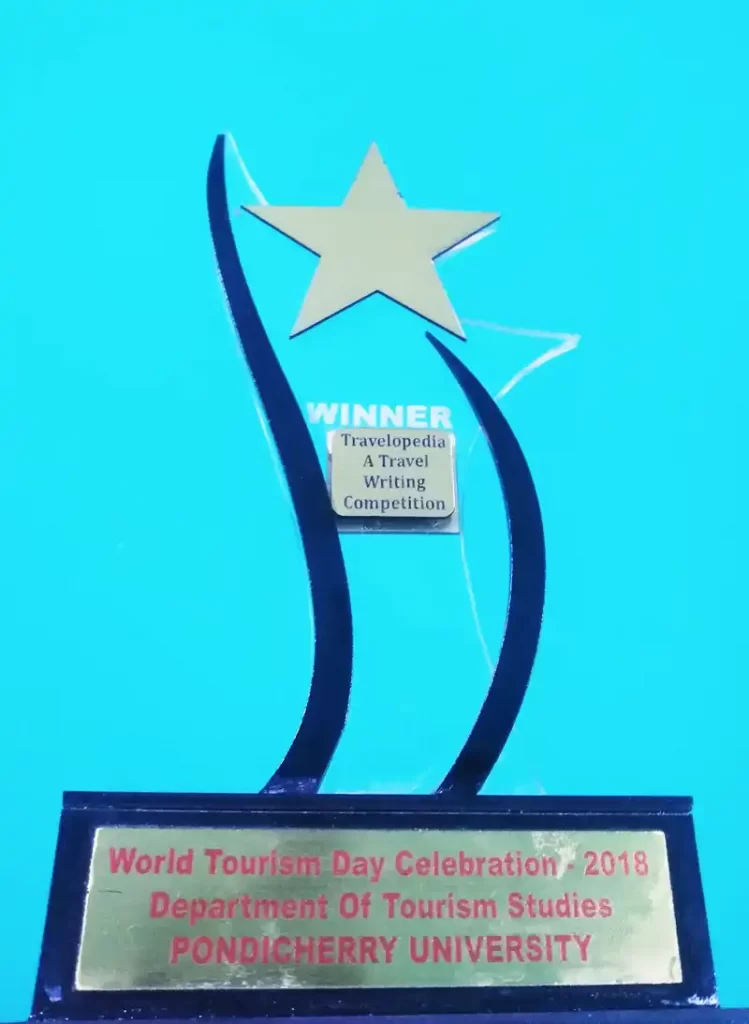 ---
Collaborations:
This Travel Company:
The above articles were in collaboration with This Travel Company.
Voyagers Voice Magazine
I am a collaborator at Voyagers Voice, a digital travel magazine about art and culture.
Read my interview with them – Northeast India: Interview with Joydeep Phukan of The Gypsy Chiring
I have also contributed to Voyagers Voice Magazine on – Bihu, the essence of Assamese culture
Other Collaborators & Partners of the magazine include-
BONTRYP TRAVEL: Bontryp is a travel consultant company, that, in addition to consulting the travel requirements for each destination, it helps all kinds of travellers to save time on travel searches and money on your trips.
ITALIA STRANIERA: Italia Straniera is a travel, art and culture blog, with news and insights on the most suggestive and least known places in Italy.
FLYINGDOG TRAVEL: A Travel blog and website which includes the best of South East Asia with information, guides, advice and links to deals and recommendations.
FOOD AND TRAVEL: A website for people who want to travel and taste new things. Travelling is a way to escape, learn, discover unforgettable places, meet interesting people and try gastronomy from all over the world.
TRAVEL UMPIRE: Travel Umpire provides information for travellers about Nepal. They are specialized in culture & history tours, trekking & hiking, eco-tourism, jungle safari, and leisure & pleasure tours. Additionally, they virtually assist in tailoring the most perfect trip for Nepal to make a memorable holiday for family & special groups as well as couple travel.
BRISTOLIAN ABROAD: English Travel & Sports Blogger. Jamie brings you informative guides, advice & deals from the best of Australia, New Zealand & beyond. His blog has an array of posts on destinations, travel tips, incredible road trips & awesome adventurers.
FOOT SLOPES TOURS AND SAFARIS: Tanzania Safari Tours | Tanzania Safari Packages. Tanzania Safari — there is no better way than booking your African Safari Holidays with Foot Slopes Tours and Safaris. Looking for an African Safari Holiday with Real Tanzania Safari Packages? Are you looking to encounter Tanzania Wildlife Safari in a real way? Tanzania Budget Safari is the most pocket-friendly compared to Tanzania Luxury Safari Packages. Get in touch to arrange custom Tanzania Safari Packages to fit your budget and preference.
Guest Posts for other Travel Bloggers
Jessie on a Journey
Dzükou Valley Trek: Your Ultimate Guide To India's Famous Hike
Wander Era
Unique Places to Visit in Northeast India
One Day in a City
Faraway Worlds
Seven reasons to visit Guwahati, India
The BeauTraveler
What You Could Get in Guwahati for $10 – 5 Things to Do in the Metropolitan City of Assam
Contributions to other Travel Websites
The Gypsy Chiring has contributed to a number of Travel Blogging Websites –
Jessie on a Journey
17 True Adventure Stories that will inspire your next trip
Tips for Flying Solo for the first time.
20 Unforgettable Solo Female Travel Destinations In India
25 Best Places for Solo Travel in Asia
Fitting into Adventure
Travel Writers were Inspired to Travel by These Books
Breathedreamgo
12 Best places to visit in monsoon in India
The 24 best places to visit in India by month
10 New places to go in India 2023
Travel Past 50
Inspiring Travel Books Recommended by World Travel Bloggers
Capetocasa
33 Best Inspiring Travel Books To Read In 2022
Silver Backpacker
Unusual Places to Sleep Travellers Tales from Around the World
Beautiful Waterfalls Around the World
The Globetrotting Detective
A Tale of 2 Backpackers
Breakfast in Asia – 19 Traditional Dishes to Try in Asia
The BeauTraveler
Top 15 Valentine's Day Destinations In Asia
Directionally Challenged Traveler
25 Most Romantic Cities Around the World
A Life of Doing
29 Awesome Destinations in Asia to Visit in Winter Season
Curiosity Saves Travel
15 Sustainable Travel New Year's Resolutions for 2022
Trip Anthropologist
27 Delicious Indian Street Food Treats to Try Today
Travel Melodies
Best Beaches In India: Family-Friendly Indian Beach Destinations
12 Best National Parks in India for Families
The Silver Nomad
25 Amazing Destinations for Winter Sun around the World
Wandernity
17 Epic 40th Birthday Destinations
Brainy Backpackers
The ultimate Asia bucket list for responsible travelers
Journey of a Nomadic Family
Sunshine In December: Where To Travel To
The Gone Goat
20 Best Underrated Hikes in Asia That Are Barren and Beautiful
The World's Kitchens
Breakfast traditions around the World
In Search of Sarah
22 of the Most Memorable Restaurants in Asia and Oceania
Planning Away
Travel Bucket List For Couples: 46 Romantic Destinations
Life of Y
27 Must-Read Books That Will Inspire You To Travel
Traveling Party of Four
15 Inspiring Books About Travel and Self-Discovery
Wayward Wayfarer
15 Best Solo Travelling Destinations in India
23 Tips for a Beginner's Guide to Solo Travel
Try Wandering More
10 Best Places to Visit in the Monsoon in India
Staycation In India: Resorts, Hotels And Villas For The Perfect Getaway
My Travel Frames
10 Natural Wonders In India That You Should Add To Your Travel Bucket List
Blog Listed on
top sites
Blogs Directory