My Solo Trip To Kodaikanal from Pondicherry
Back in the first week of December 2017 – a Pondicherry University student at the time, I had recently finished my semester exams and had plans to visit Bangalore to meet a childhood friend.
From Bangalore, I had further plans to visit Delhi in the same month. Despite such a busy month with scheduled flights to catch, I had an entire week free up my sleeve.
Staring down at the thousands of trees that dotted the University campus, I was pondering what do to for a week on a University campus that is getting vacated with each passing day.
It was at that moment; an idea struck in my mind. Since I was visiting Bangalore anyway, I decided to take a short detour to Kodaikanal – a quaint hill station located in the Palani hills, Dindigul District of Tamil Nadu.
Located right in the middle of the Indian peninsula (looking Latitudinally), Palani Hills – the mountain range where the little town of Kodai nestles is part of the greater western ghat range. It proved to be one of the best decisions of my life. Here's Why:
The entire trip was filled with randomness and uncertainties right from the very start. A fellow hostel mate at that time, and a good friend now dropped me to the Pondicherry bus stop.
A great rider but very uncharacteristic of him, he topped 130 km/hr while dropping me at the bus stop. It was only a year later I realized he was probably bitter about the whole incident as my friend had to attend an important family engagement and couldn't join in with me.
After screaming the entire length of the ECR highway and even getting chased by street dogs in one of the dark side alleys near Pondicherry bus station, I finally managed to board one of the buses to Kodaikanal.
The randomness didn't end there as I was approached by another solo traveller on the bus asking for cigarettes.  From the looks of it, I could tell the guy was European. He had the most stunning deadlocks I had ever seen. I didn't start up a conversation with him given my introverted nature, and soon fell asleep.
The Mesmerising Kodaikanal
The next morning, my eyes were greeted with luscious green hills and orchids of all shapes and colours as the bus was winding forward towards the destination – Kodai.
In the meantime, I called one of my friends from my University who had already left for his home town in Kerala the day exams were over. Hearing over the phone that I was about to reach Kodai anytime soon, he decided to join me in Kodaikanal later that day and started his own journey via a completely different route.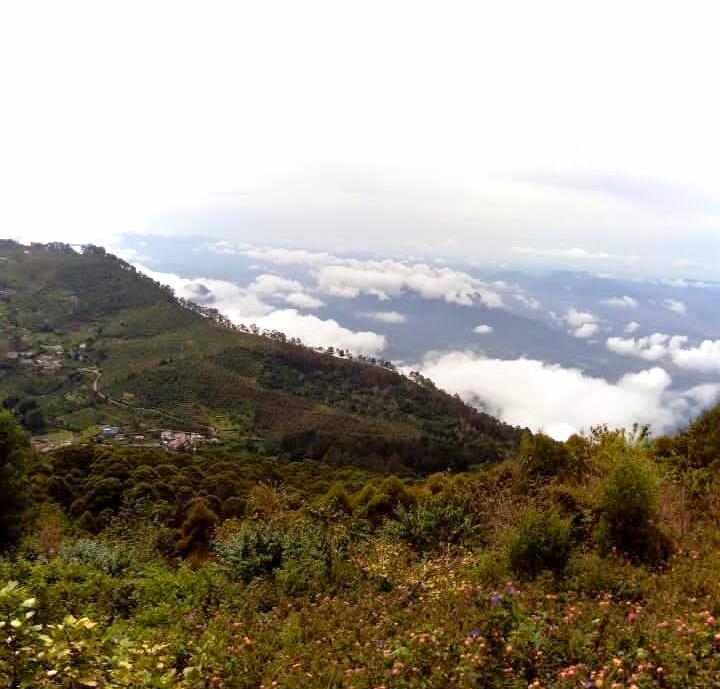 Kodaikanal is situated at a height of around 2,500 meters, making it the second-highest hill station after Ooty in the state of Tamil Nadu. The word 'Kodaikanal' in the local language means "The gift of the forest".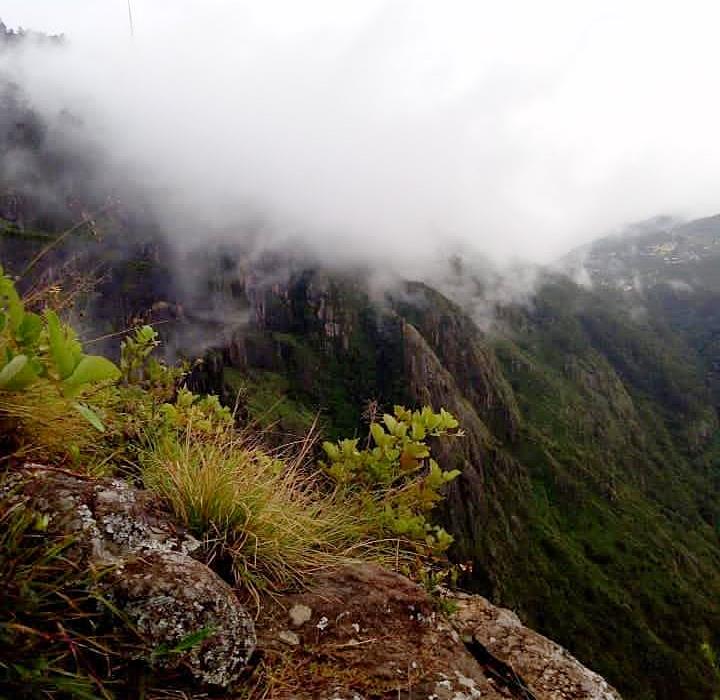 The day I arrived at Kodai was a fine winter day with the weather around the town oscillating between dense fog cover and spells of sunshine that makes us lazy when it hits the skin.
After having a sumptuous South Indian brunch of Poori, sabji, sambhar, Idli and Omelette, I took a walk around the town.  It was late afternoon when my university mate finally arrived.
Upon joining forces, we both decided to stay put at the place where I hastily booked early in the afternoon as soon as I reached Kodai at Rs 800 per night.
After taking a few minutes of rest, we decided to walk around the whole city, visit some of the mainstream tourist spots, and maybe get a better place to stay for the next couple of days.
Vattakanal – Portal to Another World
My friend had already visited Kodaikanal before, and he suggested we move over to Vattakanal the next morning – a village located 4 km away from Kodai, even more secluded, away from the crowd – a perfect retreat.
Given our gypsy spirits, we decided to walk towards Vattakanal instead of hiring a taxi and check it out as soon as possible before night sets in.
While walking towards Vatakanal, I again met the European guy probably three years younger than me with his wicked deadlocks. Our paths crossed again, and this time we struck a conversation.
The European fellow was a citizen, born and brought up in Belgium by parents of Italian ancestry of French descent from the Northern parts of Italy bordering France.
Upon knowing that he too has been out on a solo trip, in fact, the first-ever foreign solo trip of his life, both I and my university friend asked him to join us. The solo trip was not solo anymore.
The next morning, we were to be joined in by another university mate of ours. He too had visited Kodaikanal many times before and also had built up genuine contacts to stay at Vatakaanal. With a set plan finally in motion, in the next two days I had one of the best budget retreats.
Vatakanal in the local Tamil language means "Seeing Fog", true to its name the next two days I witnessed intense fog. The pine trees, orchids, and flowers, when covered with a thick layer of fog, gives the hill station a Gothic touch to it.
The best part about Vatakanal is that you can trek pretty much everywhere and the locals won't bother you a tiny bit. Beware of Wild Bisons that roam freely in the forest though.
Photo: Joseph Prathul
This was a small snippet of my first-ever trip to Kodaikanal which was later followed up by two more equally endearing trips. Having visited Kodaikanal three times now, here are a few things to do in Kodaikanal –
Things to do in Kodaikanal
Try the famous chocolates of Kodaikanal
Kodaikanal is not only a beautiful, quiet hill station; the region also produces some of the finest dark as well as white chocolates in India. The town is filled with local shops and small vendors selling chocolates.
Visit offbeat Vattakanal
While Kodaikanal is getting commercialized with each passing day, Vattakanal located 4km from Kodai town is the real deal.
The local people in the tiny village have made many accommodations available ranging from small units at rates as cheap as Rs 250 per person per night to entire bungalows (limited few) at just 4500 per night that could accommodate a group of 15 to 20 travellers.
Try eating at Tibetan Restaurant
There is a nice little Tibetan restaurant run by an old Tibetan couple in one of the alleys that run down from the main point in Kodai town. Do try it out when you visit the place.
Explore Offbeat Waterfall
From Vatakanal there is a small local track that descends down-slope of medium difficulty which eventually ends in a cascading unnamed waterfall. The entire track is a descent of more than 900 meters, and one could feel the climate getting humid as they spiral down the track.
How to Reach Kodaikanal?
Kodaikanal is more or less equidistant from Chennai, Bengaluru, and Pondicherry. Hence, bus fares are also somewhat equal. Depending on the quality of the bus service availed, the fares may range from Rs 450 to Rs 850.
Another way to reach Kodai from Chennai or Pondicherry is to make a break journey of both train and bus. Take any train that goes towards Dindigul, located at the foothills of Palani hills. From Dindigul, there are buses at regular intervals going for Kodaikanal. This is the cheapest way to reach the hill station.
Kodaikanal Trip Budget
Very pocket-friendly hill station for the ones staying in Chennai or Bangalore. My first-ever trip back in 2017 cost me Rs 3500 for three days of intense exploring and trekking.