Do you want to do adventure activities in Mawlyngbna in Meghalaya? If yes, you are in the right place.
This article is based on my personal experience of visiting Mawlyngbna. I hope it helps to plan your trip to Mawlyngbna.
About Mawlyngbna
Have you heard of a beautiful village called Mawlyngbna nested at the Indo-Bangladesh border in Meghalaya?
If not, give it a search, visit the place and enrich yourself with an empowering experience.
Maintained by Mawlyngbna Multipurpose Co-operative Society Ltd. under Explore Exotic Meghalaya.
It is a joint collaboration of the Co-operative Department, the Mawlyngbna Traveller's Nest provides exquisite and peaceful homestays along with a number of adventure activities.
Waterfalls & Scenic Drive to Mawlyngbna
Hearing the name Mawlyngbna for the first time just a week before, I couldn't resist but join the road trip organized by This Travel Company on the 13th of October, 2019. Driving through the curvy roads alongside the hills, we halted near Mawphlang Sacred Groove to embrace the foggy ambience.
As we neared Mawlyngbna, a waterfall greeted us by the roadside. We stopped again, to watch the flight of the clouds play with the sun. Standing atop a viewpoint, as I glanced to right, left and front I saw waterfalls in each direction in the distant hills. Well, I believe, Meghalaya should be referred to as the 'Abode of Waterfalls' instead of the 'Abode of clouds.'
Traveller's Nest Mawlyngbna
About 15 km from Mawsynram town of East Khasi Hills District of Meghalaya, the Traveller's Nest is located atop a hill beside the Mawlyngbna village. After having driven about 5 hours from Guwahati, Assam, we finally reached our destination. As the kids cheered in the playground below, we rejoiced in the view of the faraway paddy fields of Bangladesh, and the romanticism of the sunset with the hills of Meghalaya.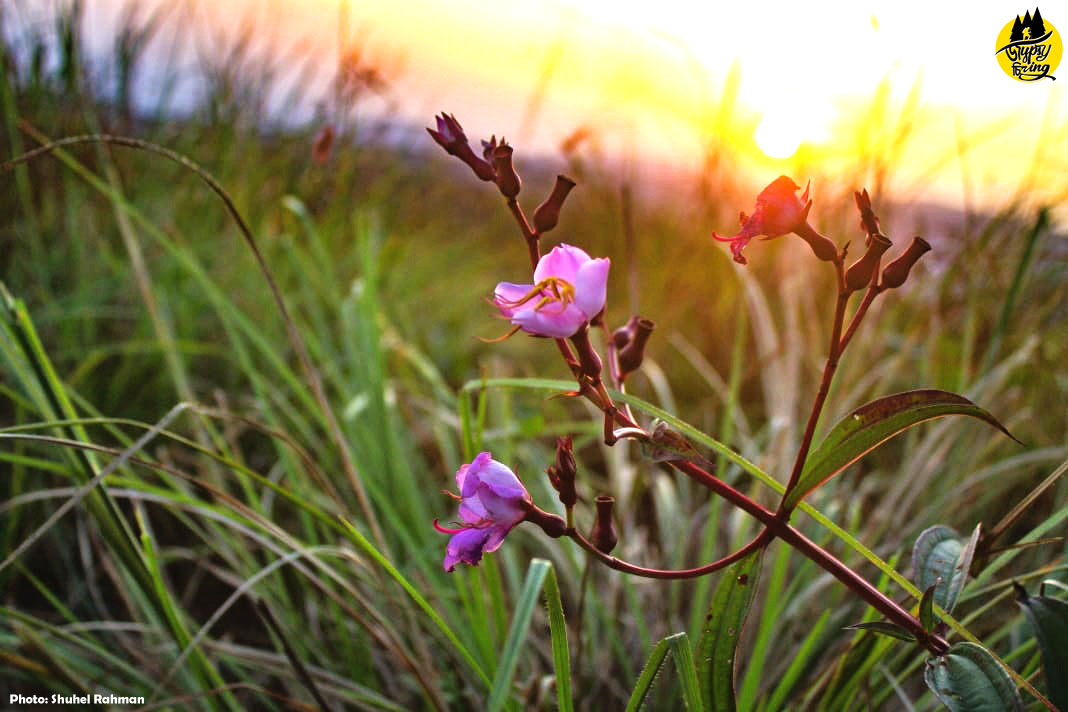 "The House in the Woods" is where we stayed the night. There are two cottages in Traveller's Nest Campsite surrounded by trees all around. As we descended the stairs, the crickets welcomed us with their whistles. A beautiful night concluded under the full moon, bonfire, songs of joy, and the melody of guitar strings played by our guests.
River Canyoning in Umkhakoi of Meghalaya
As I opened the door, a joyous puppy greeted wiggling its tail. It was a foggy morning accompanied by the sound of raindrops splashing on the leaves and crickets singing their best.
The clouds cleared by noon; the adventure thus began. After a 15-minute drive from the campsite and a short hike through a forested patch, we ventured out for river canyoning for the first time. The quest started with the thrill of jumping off the cliff.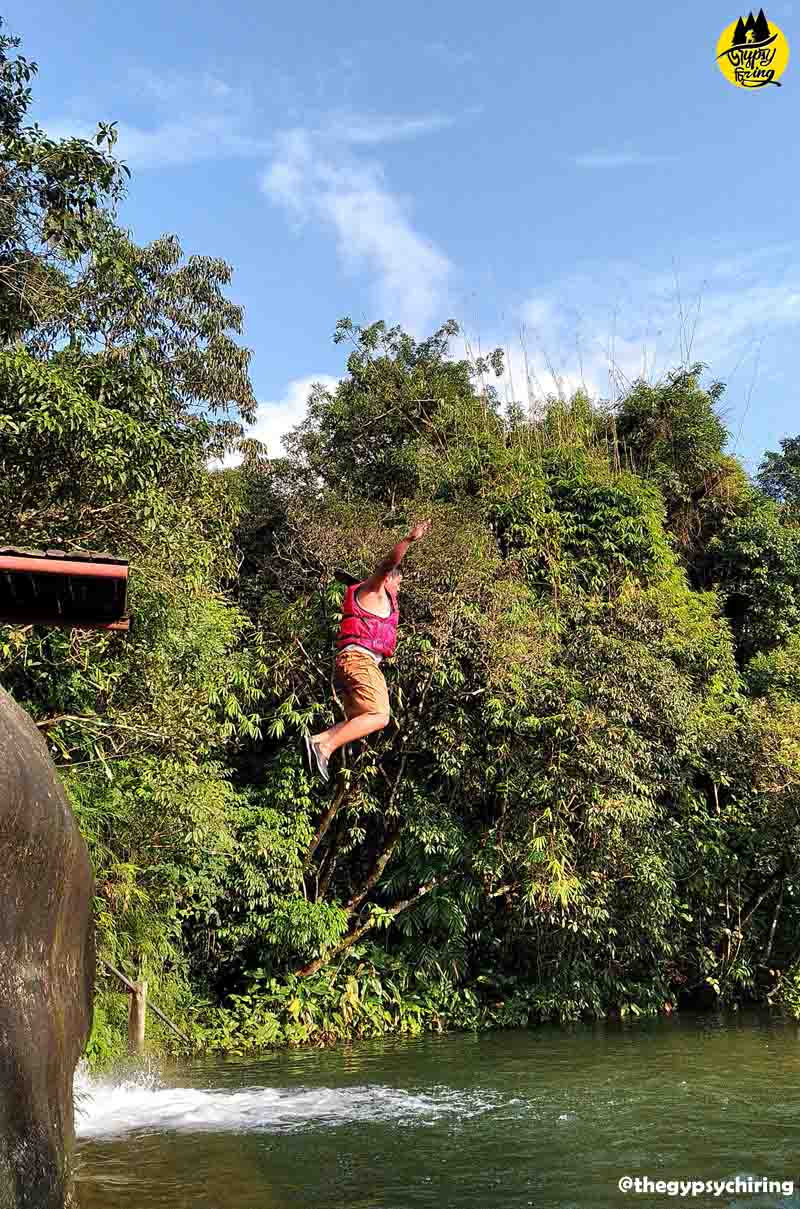 Overcoming the fear of diving/jumping was perhaps meant to happen in the purest waters of Meghalaya. I cheered out loud as soon as I came out of the water. Surreal it was! Sliding down the tiny waterfalls, rappelling a few, swimming and eventually kayaking to the Umkhakoi River – it has it all. Every moment was filled with thrill, laughter and happiness.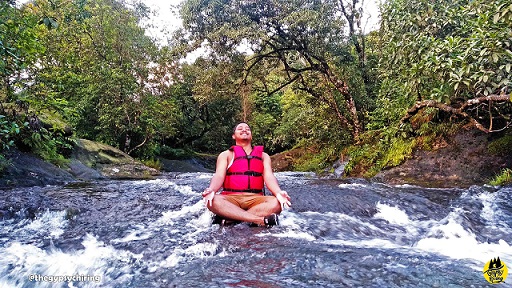 When you are here go for Kayaking at Umkhakoi Lake. It is definitely worth it.
You get to slide, dip, dive, jump, swim and kayak in the river canyoning.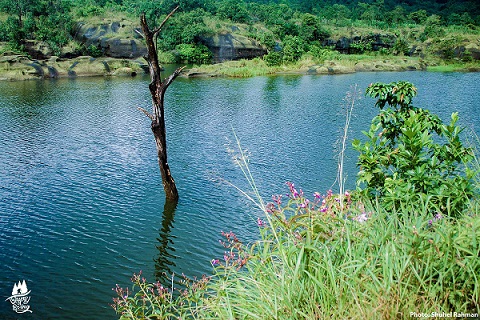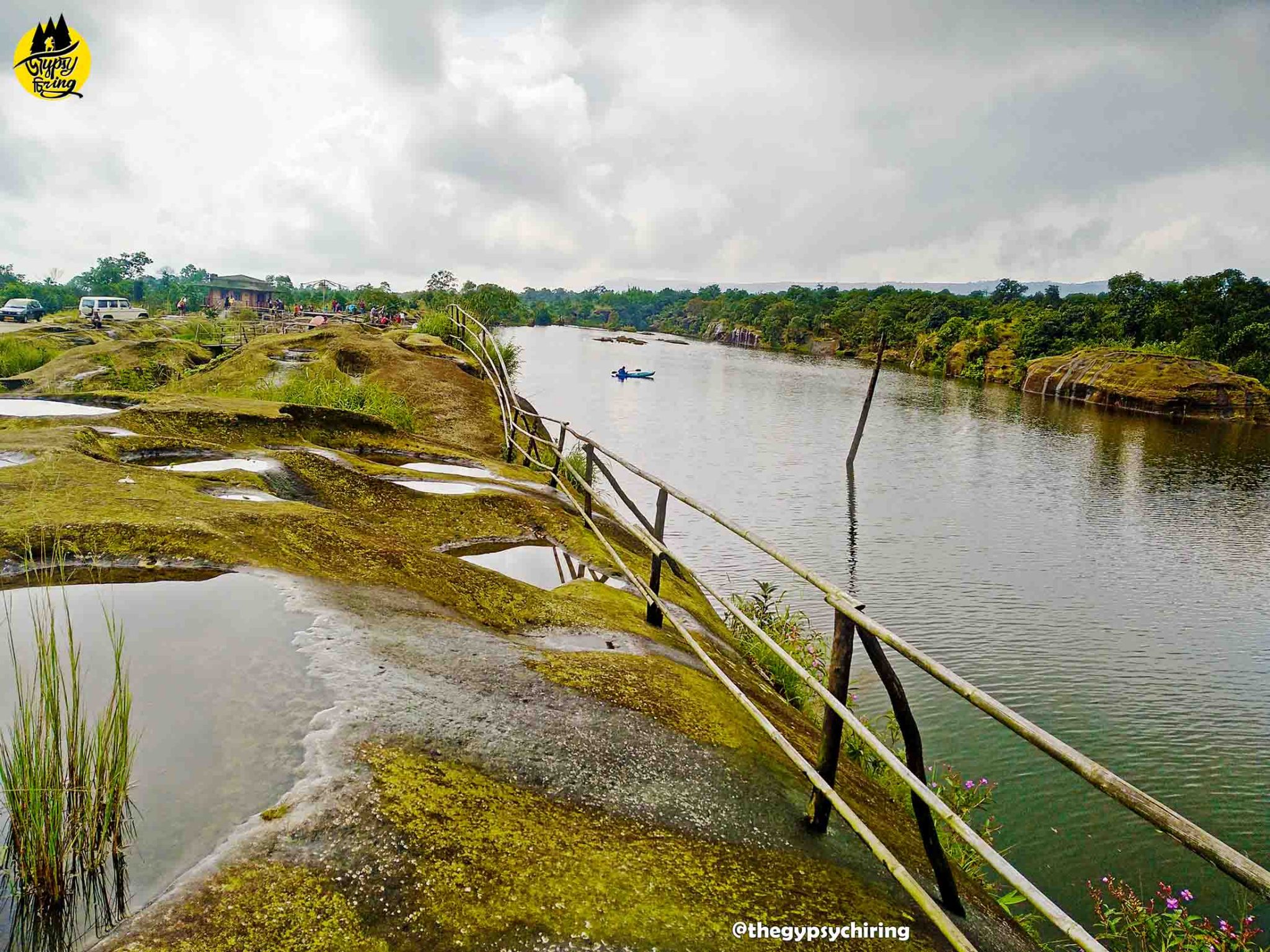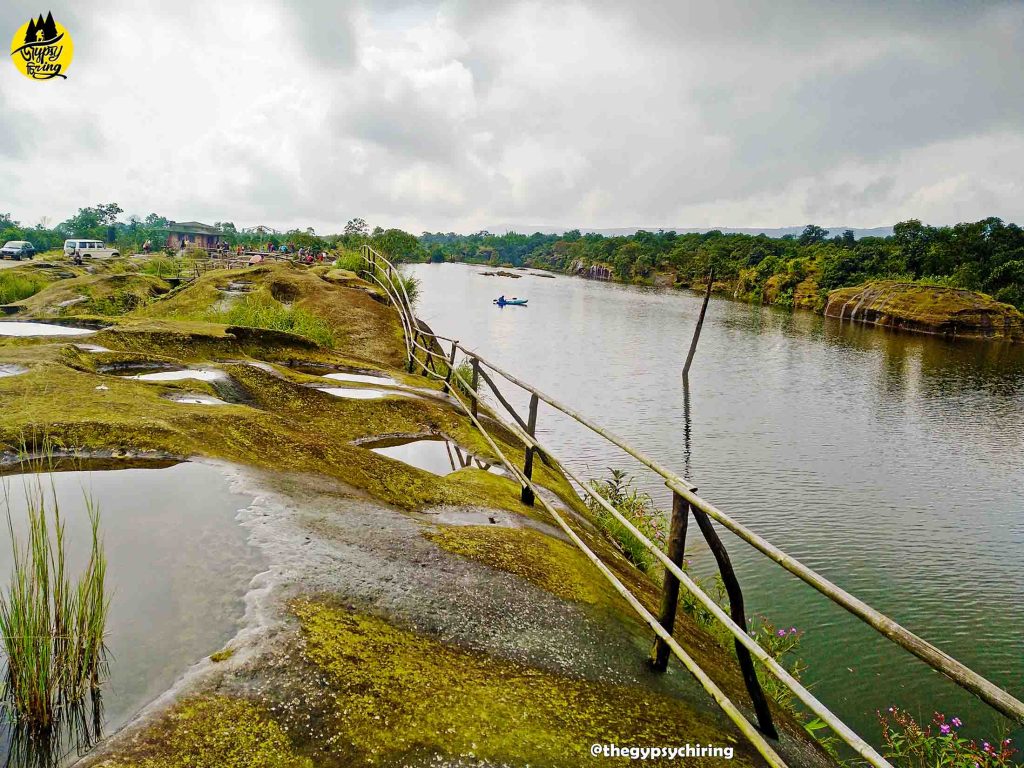 Oslo Waterfall
Krem Mawpun
All FAQs
How to reach Mawlyngbna?
Sumo, buses and rented cars are available from Guwahati to Shillong. From Anjali Taxi Stand, you will get vehicles on sharing basis directly to Mawlyngbna. There are two buses from Shillong ( Anjali Sumo Taxi Stand) to Mawlyngbna – one at 1 pm and the other at 3 pm. Make sure you reach Shillong beforehand to book the tickets.
Things to Do in Mawlyngbna
1. River Canyoning, swimming, kayaking, and Angling at Umkhakoi Lake.
2. Visit Fossil Park.
3. Explore Oslo Waterfall, Umdikain Waterfall, and Riat Riam Khasaw Falls among others
4. Hike to the caves and the humungous Split Rocks.
5. Visit Ka iew Luri Lura – A rigged surface with animal footprints, believed as the market to have been run by animals according to their folklore.
6. Witness the insect-eating Pitcher Plants in the garden and forests.
7. Take a walk into the community forest named Law Adong.
8. Explore Krem Mawpun- a cave in Lawbah.
Where to Stay in Mawlyngbna?
There are two places to stay in Mawlyngbna – Mawlyngbna Traveller's Nest and Mawlyngbna Umkakhoi Cottage (near the lake).
How much does Mawlyngbna Stay Cost?
The Mawlyngbna Traveller's Nest Campsite provides camping tents (Rs 800 per night) and has two guest houses (Rs 2000/day) for a stay. Each guest house has two beds with an attached bathroom. An extra fee is charged to accommodate more than 2 individuals.
How far is Umkhakoi Lake from Shillong?
From Shillong, Umkhakoi Lake is about 75 km from Shillong and takes more than 2 hours to reach.
Where can you do river canyoning in Meghalaya?
Apart from other adventure activities, Mawlyngbna is also popular for river canyoning in Meghalaya.
An addition to the Mawsynram tourism and Meghalaya tourism map, the Mawlyngbna should definitely be on your Meghalaya checklist.
Watch this video my Meghalaya tourism on Mawlyngbna –