Do you maintain a travel essentials list? if not, then you should definitely make a travel essentials checklist. Such travel-related gear and accessories have often saved us from many difficult situations.
This article is about personal experiences shared by travel bloggers around the world. Presenting you some of the best travel essentials on Amazon India, the list comprises travel essentials for women as well as for men.
I have added my experiences with Sleeping Bags and Rucksack. I hope you enjoy the read.
Travel Essentials Checklist
Recommended by Joydeep from The Gypsy Chiring
My backpack is never without a sleeping bag in it. The sleeping bag might vary according to the type of my travel though. If I travel on a train, I generally carry a lighter sleeping bag, but for hikes and treks, a good sleeping bag has always helped in keeping my body warm.
I regretted not taking a sleeping bag during the Mt. Saramati Trek in Nagaland in 2016. Even after wearing a good layer of clothes and a blanket, it wasn't enough to beat that shivery night at the wooden base camp of Mt. Saramati. Having learnt my lesson, I carried a better quality Sleeping Bag on the trek to Mt. Japfu and it was worth it. The peak had received heavy snowfall just a few days before our arrival. Though I slept for only two hours and then headed to the summit, I must say, the sleeping bag protected me from the cold.
Honestly, I also use my sleeping bag at home. It has become a habit now. I had also used it during the cold monsoon nights at our Pondicherry University Hostel.
Before, I used to take trolleys during my trips. I had a hard time carrying it and the extra weight associated with it. Ever since I shifted to day backpacks and Rucksacks, I felt more comfortable carrying them. Not only does it give a backpacking vibe but also balances the weight of the luggage.
The above Trawoc Rucksack was my companion for more than three years. I bought it from amazon just before the trek to Sandakphu in Darjeeling, India in 2017. Since then, we travelled on numerous, hiking as well as backpacking trips to South, East and Northeast India. What I love the most about backpacks and rucksacks is that it trains you to bear the weight, and in my case, have prepared me for hiking and mountaineering.
Recommended by Claire from ZigZag On Earth
One of the essentials I never travel without is an emergency thermal blanket. It is one of those items that can really save you in different situations. It is very small and easy to carry in your backpack, yet it is very powerful.
For example, when traveling around Iceland, you never know what the weather will bring. You can be stuck on the road because of the Wind (in Summer) or the snow (in Winter). There is no way to carry a blanket everywhere you go, but packing a thermal blanket can save you from freezing in your car.
The other situation where I had the chance of having my thermal blanket with me was during hiking. When people get hurt, they can feel very cold. The thermal blanket really helps them wait for the emergency services. And, on top of keeping you warm, I find it has a reassuring feeling with the colourful gold side.
Finally, I have used the thermal blanket in other situations but not as an emergency. When hiking you want to limit the weight and size of your backpack. So, carrying a big warm towel is not an option. But, when you go swimming in a high-altitude lake, you don't want to wait for the sun to dry you! The thermal blanket is really saving the day, by warming you as soon as you get out of the freezing water.
Recommended by Ilona from Top Travel Sights
A light wrap skirt is the travel essential that has saved my day the most often during my travels.
In many countries around the world, you need to cover your knees and shoulders if you want to visit temples or churches. That might not be a problem in Europe in winter, but it is challenging in the tropics. With hot temperatures and humid air, you don't want to wear long trousers all day long.
A light wrap skirt is a perfect solution. You can keep it in your bag and put it on before entering the temple. It also works great in countries like Iran, where, as a woman, you should cover your legs when you leave your hotel. A long skirt is much lighter than long trousers, and you won't get as hot.
Another place where my light wrap skirt saved my day was Greece. I hiked to all of the monasteries in Meteora, so I needed appropriate hiking clothes. Unfortunately, though, women are only allowed to enter the monasteries when wearing a long skirt – trousers are not permitted. A skirt wouldn't have been practical to wear for the hike, so I just carried my light wrap skirt in my backpack and put it on before entering the monasteries.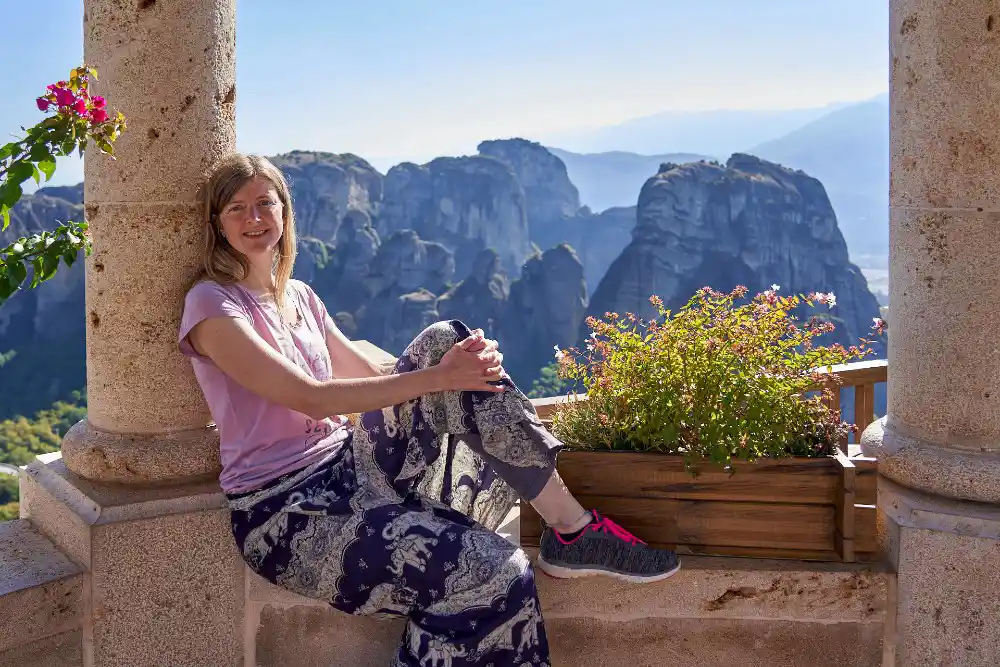 Recommended by Lisa from Planningaway
One of the best travel essential items that have saved me and my family time and time again is a poncho. I know what you are thinking….Lame! But, No this sole item has the ability to make or break a vacation!
Let me give you a few examples of when a poncho has turned a bad experience into a great experience.
Disney World was the first experience where I learned just how valuable a poncho could be.  As you know a Disney vacation can be expensive and rain or shine the show must go on. It rained on the day we were to go to the park. We ended up purchasing very expensive ponchos, but they made all the difference.  We were able to ride all the rides and still have fun despite the rain.  Going to Disney when it is raining is actually amazing because all the locals stay home and there are no lines on the rides!
After Disney World, I learned to pre-purchase ponchos off of Amazon before any trip! 
When we visited San Francisco on a family trip it rained the entire time.  We didn't let that stop us!  We put on our ponchos and explored Pier 49, Muir Woods, and all the major outdoor attractions. Guess What?!  Now one complained.  Ponchos keep you so dry even when it is pouring!  
I actually bring ponchos on all vacations, including amusement parks, even if rain isn't in the forecast you can use your ponchos on water rides.  
I could tell you story after story about the times it has rained while we have been on vacation.  The best advice I can give is to be prepared, and don't let the rain stop you from having a good time!
Recommended by Chris from Punta Cana Travel Blog
A microfiber travel towel is super essential for every holiday and can serve as a multi-purpose tool, doesn't matter if just for a quick vacation or a long-term trip. It mainly serves to dry yourself off from any kind of water you might get in contact with, especially when not being in your accommodation. This might be after having dipped into the ocean at a secluded bay in the Caribbean or after exploring some of the gorgeous waterfalls around the world. It also helps you to get dry after a spontaneous downpour, as they often occur in Central and South America as well as in Asia.
However, such a lightweight and fast-drying travel towel can also be used for other occasions. During my travels, it was (and is) super helpful for me when being in one of the buses in Punta Cana and the Dominican Republic, where the air-conditioning is always turned on to the maximum – the towel saved me from getting too cold. I either wrap it up around my chest or put it on my head.
The travel towel can also serve as a small blanket to sit on the ground when there is no chair or cushion around.
And, last but not least, we have also used the microfiber towel as an emergency tool to cover and stanch a wound when being on a remote hiking trip through the Dominican wilderness – even though we hope you don't have to use it during your trip for this occasion.
Recommended by Dave from Silverbackpacker
I started travelling with a hammock back in the '70s and have always packed one in my backpack ever since. When you are out on the road or passing time at bus and train stations or seaports and airports, having a hammock with you can always save the day. You never know when you may need one.
All you need to fix the hammock for a comfortable rest is two fixing posts, which can be either horizontal or vertical. 
My hammock is hand made by "Hammock Republic" in the Philippines and it also doubles as a neck pillow when packed into its unique horseshoe-shaped sleeve. This helps make those long overnight bus rides more bearable.
I have many stories of how my hammock saved the day. A short example is alighting from a bus at 02.00 in the morning in the small town of Linaon in Negros, Philippines. With nowhere to sleep, I found a derelict bamboo shed by the roadside to hang the hammock in, secured my backpack safely and soon was in dreamland. 
You will never regret carrying a hammock. It can save you in many situations.
Recommended by Andreea from Andoreia Travels the World
When I travel, one of my best tips for organizing the items inside my suitcase, as well as maximizing the space is using packing cubes. They help keep the clothes tightly pressed together allowing me to fit more stuff in, while also protecting them. They're especially good for my long and flowy summer dresses.
I also have small bags designed specifically for shoes, which keeps them from making a mess of both the inside of my luggage as well as my other items.
I like the fact that I always know where a particular thing is. I often find it easier to leave the clothes in their packing cubes at my destination and just take out the cubes that I need. When it's time to pack for the return trip, it's way easier and faster, as I don't have to deal with a pile of clothes.
By using packing cubes I also have the peace of mind that my items won't scatter all over the place if my luggage gets opened at the security check. Because there was nothing worse than to have my carefully and optimally packed suitcase opened and then have other passengers give me inpatient looks while I scrambled to get everything back right unsuccessfully.
Recommended by Peta and Jonas from Exit45 Travels
How to keep your valuables safe is something most travellers and holidaymakers have had concerns about at some point or another in their travels.  We have been travelling full-time for a number of years now and the one thing we always travel with are cable locks. Being slash-proof and with a 3-dial combination lock, our Pacsafe retractable cable locks provide peace of mind knowing our valuables are secure.
We use our cable locks on a daily basis in a variety of situations. In our hotel room, we keep our belongings safe in one of two ways. If there is a wardrobe with a handle, we store our valuables inside with a cable lock secured around the handles when we are not in the room. Alternatively, if there is no wardrobe, we secure our locked luggage to a fixed structure in the room such as a bed, or heavy piece of furniture.
We also use cable locks to secure our luggage on overnight ferries, buses and trains to ensure the security of our gear while we are asleep. When swimming or snorkelling for extended periods of time at the beach, we attach our beach bag to a beach umbrella, fence or tree to keep us safe.
A cable lock is not 100% theft-proof, but acts as a deterrent to would-be thieves!
By Barbara from Mums on Flip flops
One thing I never leave home without when I'm going on a trip is my large blue scarf. It's not only pretty but extremely useful!
Obviously, I mostly use it as an item to keep my neck warm. I often travel without a jacket and I'm usually comfortable enough with a sweater and my scarf. But there are many other ways in which it can be used too.
For starters, it's a great pillow to use on the plane or a long bus ride. Alternatively, thanks to it being that big, you can use it as a blanket too. And if you are staying in a hotel with a baby or toddler, they will be happy with an extra blanket or pillow that smells just like you.
Another way I've used this scarf is when visiting sacred places. They often require you to cover up. Wrap the scarf around your head and shoulders or turn it into a skirt to cover up your knees and you're good to go!
By Sydney from A World in Reach
While travelling, you often rely on your cell phone for a variety of things – navigating an unfamiliar city, using your phone's camera for photos, keeping in contact with loved ones, and more. It can be a pain to be out and about with a dead phone battery, so consider carrying around a portable power bank to stay charged while on the go.
There are countless different power banks available that are affordable and small, which is important when you'll be carrying it around all day. The Anker PowerCore Slim portable charger is a great option that won't break the bank. Plus, weighing just 208 grams, you won't notice any extra weight added to your day bag.
My Anker power bank has saved the day countless times on my travels. While studying abroad in Ecuador, my dorm only had one outlet and no air conditioning, so I relied on a fan to stay cool at night. I was able to charge my power bank during the day and use it to charge my phone at night, freeing up the outlet for my fan! It's also nice to have the peace of mind that you won't have to deal with a dead phone, which is no fun after a long day of travelling.
By Victoria from Guide Your Travel
When you're travelling you'll most likely run into crowded situations where you need to keep your belongings close. Pickpockets exist in most countries and as a tourist, you're most likely a big target and stand out from the crowd.
Carrying your phone or wallet in a back pocket is not a good idea and you most likely won't even notice if it gets stolen. However, your front pockets can also be stolen from, especially in crowds where people are pushing each other around.
Carrying a bag is only slightly better and could even be more inviting to thieves especially if you have a backpack. One of the best items for frequent travellers is a small, flat fanny pack that fits under your clothes and can be tucked into your waistband. They exist in several different sizes and are perfect for protecting your most valuable belongings like money, keys or papers. Some even fit a phone depending on what you're wearing.
Keep in mind that these will be slightly sweaty to wear in hot weather but it's worth it. It's nearly impossible to steal from these types of fanny packs especially those which have pockets on the inside. They're barely noticeable and will keep your things safe.
Recommended by Sarah from ASocial Nomad
Water is life and clean water is absolutely key to travelling safely.  Unfortunately, much of the world does not have access to clean potable water. That's why using a filter water bottle while travelling will help keep you safe and in control of your water supply.  It's true that bottled water is available in most of the world too, but it's not only expensive, but it's an environmental disaster, so avoiding it saves both your budget and the world from single-use plastic.  
Filter water bottles can filter out bad-tasting water, they can also filter out Giardia and Cryptosporidium from untreated or contaminated water and other bugs which can cause nasty gastrointestinal diseases.  Don't like the taste of safe but chlorinated water?  Filter water bottles get rid of that taste too!  The best filter water bottles let you filter water from any source – apart from salt water, which destroys the filters quickly. 
A good filter water bottle can save around US$400 a year when compared to buying bottled water!  That's money that you can spend on visiting some more amazing places.
14. A Change of Clothes in Carry on Luggage
By LeAnna Brown from A Wander in Germany
No matter where I'm traveling to, when I make my packing list, I always set aside one set of clothes for my carry-on if I am checking my luggage.  Why?  Well, you just never know what is going to happen in transit.  Planes can be delayed (or worse, cancelled), things can be spilled on you accidentally, and for those long-haul flights, sitting in the same clothes for potentially over 24 hours starts to feel a bit grimy after a while. 
And of course, those of us traveling with kids know that you are just a spit-up away from needing a whole new outfit! I simply pack one set of clothes (including undergarments) that can be packed down small and that won't wrinkle into a small packing cube.  I shove it to the bottom of my carry on and if I don't need it, great!
However, I have been in plenty of situations where I am so grateful to have a set of clean clothes to quickly grab. It may seem silly, especially if I am just doing a short hopper flight somewhere, but after having to sit in messy clothes, even just for a few hours, I've learned my lesson! 
If I am doing a long-haul flight where a shower at an airport is possible, I'll make sure I have some toiletries as well, as nothing feels better than fresh clothes after sitting in a plane for hours on end. 
By Brodi from Our Offbeat Life
A waterproof waist pouch is very helpful when on trips doing water-oriented activities. It can be used swimming in a pool when you don't want to leave a cell phone and room key on the lounge chair. It's also helpful at the beach when playing in the waves or snorkelling and you're a fair distance from your personal effects. In addition, it can be taken to amusement and water parks when you're walking around all day and don't want to get your phone and wallet wet. 
Regardless of the scenario, the waist pouch holds all your essentials for peace of mind. Most pouches are large enough to hold a smartphone, some cash, a couple of credit cards (and/or room keys), and even a few face masks. A good waterproof waist pouch will have two to three sliders to ensure a complete seal and keep all belongings dry. In addition, the pouch rolls down and velcros shut to prevent the sliders from reopening. 
The waist portion is also adjustable to properly and snugly fit a variety of body sizes. Some pouches even come in packs of two so more than one traveller can wear one. This helps one person not be overburdened with the phones and wallets of everyone in the travel group. 
Recommended by Nicole from Go Far Go Close
A few years ago, my I-phone flashlight saved my life. However, had I had a proper flashlight, one that projected a bright light 50 feet in front of me, I believe my life would not have been put in danger in the first place.
My family of 5 was at Ranthambore National Park in India. We were staying in a gorgeous resort with luxury tents just outside the walls of the Park. At night, it was absolutely pitched dark out.
After dinner, I returned alone to my tent. I pulled out my I-phone flashlight which helped me see the path better, but nothing beyond a foot or two. As I approached my tent, I saw a lumpy animal in front. I thought nothing of this – there are cows everywhere in India. I didn't slow my step.
I was almost within arms reach of the animal when I startled it and it ran away. At this point, I was able to see that I was looking at the backside of the animal. I thought it was a large deer from the National Park.
I continued a few more steps to my tent and began to unzip the door when I felt something behind me. I turned with my flashlight and couldn't see anything right behind me. But, then I sensed motion above so I lifted my I-phone higher. To my horror, looking down at me from a mud berm, 10 feet away, was a Bengal Tiger. 
I frantically tried to get the zipper down to open the flap of the tent door. While I did so, I pointed my flashlight at the tiger. Fortunately, it blinded her – every time the tiger looked at me, she blinked and looked away. Finally, the zipper opened and I dove into my tent.
Recommended by Jessica from Uprooted Traveler
A dry bag is a simple concept- it's merely a sack made out of waterproof material that you can roll and clip at one end to ensure the items you put inside of it stay dry while you participate in some activity that may get your valuables wet. But if you're an outdoor enthusiast like me, chances are you'll get way more used out of it than how it was intended.
In fact, I use my dry bag so much that I just leave it in my SUV in case I need to bust it out for an adventure. Sometimes, I'll use it for its intended purpose- for example, I'll put my camera and cell phone in it when I go kayaking or while I'm exploring hot springs so even if I drop my bag in the water, my electronics won't be ruined.
On other occasions, though, I use it in more creative ways- when I go backpacking, with the addition of a piece of paracord, my dry bag instantly turns into a bear bag I can hoist into a tree away from my campsite, to keep my food safe from bears.
I've even used my drybag as a makeshift cooler for beers while I had a campfire on a beach- all you need to do is dump some ice in the bag, add beer, and viola- instant cooler
Recommended by Stefanie from Open Road Odysseys
The first time my husband and I visited Isle Royale National Park to spend a few days backpacking, I injured my knee. We had hiked about 8 miles and there was nothing between us and the ferry port but wilderness.
We had planned to hike 8-10 miles a day for several days, but with my injured knee, we knew that wasn't going to happen. We found a really nice spot along an inland lake and set up camp.
Fortunately, we had brought along a first aid kit, and in that kit was some elastic bandage wrap. I was able to wrap my knee so that I could at least hobble around the next few days without much problem.
When it was time to head back to catch our ferry, the bandage was a lifesaver. I was able to make it back without causing further injury and without needing an emergency evacuation.
I'm not sure I would have had the same outcome if we didn't have the first aid kit with us. This is something everyone should carry with them, whether they are backpacking, taking a road trip, or traveling overseas. You never want to use it, but it's there for when you do.
Recommended by Carly from Fearless Female Travels
In 2019 I took a year off work to travel around the world as a solo female traveller. I was confident, I was prepared, and I was excited. My only worry was how I would pack a year's worth of tampons in my backpack since I knew I'd be travelling to many countries where tampons were not widely available. 
I actually tried packing a year's worth of tampons into my backpack (for real!) and realized that if I stuck to that plan, I wouldn't have space for any clothes or shoes.  I needed a new plan… so I decided to make the switch to a menstrual cup. Menstrual cups are reusable cups made from medical-grade silicone. Each cup can last up to ten years and replace thousands of tampons, so a menstrual cup for travel is both a space-saver and a planet-saver.
I started using my menstrual cup a few months before my trip, just to get the hang of it.  I never had a leak or any discomfort, but it took a few tries to get the hang of inserting and removing it. During my trip, I loved how my cup could stay in for twelve hours, meaning I didn't have to worry about finding a clean, well-stocked bathroom in the developing world.
I could insert the cup in my hotel room in the morning, then rinse and replace it when I got home that evening. I also loved knowing I wasn't creating extra plastic waste in ecologically-sensitive regions. And of course, I loved having space in my bag for clothes, shoes and a little shopping along the way.  
Recommended By Samantha from Intentional Detours
As much as I love my cheap hiking backpack, there is no travel item that has been as important to me as this iconic sleeping mat from Sea to Summit.
Several years ago, I had a neck injury and surgery that made me fear I'd never be able to sleep comfortably while camping. And as I love trekking and traveling to remote areas, camping is an absolute must.
This sleeping pad isn't the cheapest, but after having used it dozens of times now I can confirm it's worth every dollar spent. 
The Ether Light XT sleeping mat is 4 inches / 10 cm thick and is made for side sleepers. It easily inflates with an attached bag and folds up light and small.
The sleeping pad is literally as comfortable as a nice bed, and in fact, is comfier than many beds I've slept in on my backpacking adventures. 
It's, of course, useful for camping but can also come in handy in any situation where a comfortable bed is nowhere to be found. This can happen quite often if you're budget traveling!
Contributed by Kerry Hanson from Adrenaline Junkiez
If you've ever been backpacking, you will know how crucial your backpack is. Luggage is essential for any trip, right?
Well, on my first-ever solo backpacking trip my backpack never arrived at the airport. In a true backpacker style, I didn't book any accommodation before such that so I can go to my hostel and wait for it. I had to wait at the airport for four hours. Imagine my joy when it finally arrived. I was so happy to see it in one piece that I quickly signed the papers so I could get some much-needed sleep. But that's when I saw it, the straps had been ripped off and the airport had sneakily hidden this from me.
Because I'd signed the waiver the airport took no responsibility for the damage. In tears, exhausted and in a new foreign country, I frantically searched for options. A mini travel sewing kit from 7/11 saved my day. Sure, it took a while to sew the straps back and they provided no proper back support, but I could finally carry my 22kg bag! To this day I have never gone on any sort of trip without packing a travel sewing kit, it really is a life-saving travel essential. 
Recommended by Nina from Nina Out and About
Between hiking, road-tripping, and backpacking, I've experienced some truly rank clothing – both my own and others. In 2021, I was on a road trip through Northern Ontario with a friend. We rented an RV and decided to visit some northern parks to go hiking.
I only brought one hiking shirt, sports bra, and pair of leggings to hike in, assuming it was too cold for me to sweat (the lies we tell ourselves!). My clothes should have had those cartoon stink lines coming up off them by day 3.
That's where the Scrubba Wash Bag comes in. It's a portable laundry system that's lightweight, water-efficient, and SO easy to use. Even with forgetting the instructions at home, I was able to figure it out (plus they have a convenient diagram printed right on the bag).
It took 2 minutes to thoroughly wash my clothes in the bag, which has a ridged side that acts as a washboard but is gentle on your clothes. You hang your clothes to dry, and you're golden!
Honestly, without it, I probably would have lost a friend from how badly I smelled. I only wish I'd had it with me on my gap year in Europe when I would go way too long between paying to use hostel washers. Now, I gift it to all my road tripper and backpacker friends!
Recommended by Kelli from Vanabond Tales
The Tile offers travelers a modern solution for an age-old problem, losing things on the road. More times than I care to count I have lost or misplaced other travel essentials, usually moments before I have had to catch a taxi, train, or plane.
For me, and forgetful travelers like me, the Tile helps locate things that go missing. Whether you frequently misplace your wallet, phone or heaven forbid your passport and travel documents, the Tile can help track down slippery items. 
Attach a tile to your wallet, sunglass case, keys, document wallet or anything else you can think of. If (when) they go missing, activate the tile app from your phone. The lost item will ring, and the app will alert you as you move closer to the item. If you lose your phone, simply touch the logo on a Tile to activate your phone ringer remotely. 
The tile also keeps a record of when you last had your items with you if you lose something out and about AND can leverage other people's Tiles to alert you when your item is located (anonymously of course).
The Tile has given me a lot of peace of mind and removed the panic of misplacing my important things when I am traveling for work or leisure.
Recommended By Denise from Chef Denise
On my last trip to France, I was thankful, on more than one occasion, that I always keep a reusable shopping bag folded up in my travel purse. I use one with a black and white print that can pass as a purse. Of course, it's handy when you make an unexpected purchase or are tired of wearing your hat, but you may find it useful when you least expect it. 
Like at a Paris breakfast. We had a generous breakfast included with the price of our room. The server automatically brought out a feast of traditional French foods. Our table was full of pâté, cured meats, cheeses, bread, hard-boiled eggs, and croissants. We couldn't possibly finish it all. 
Not wanting to waste our leftovers, we asked in our best French if we could take them as we had a fridge in our room and planned to picnic the next day. Instead of returning with a to-go box, our server returned with another round of food! 
Stuffed to the gills, I pulled out my reusable shopping bag, wrapped the food as best I could, and we were able to enjoy a nice lunch better than originally planned on our picnic.
By Ada from Beyond the Yellow Brick Road
As a northern Minnesota girl, I've had more than one excursion in a dreamy, warm location literally turn painful when I wake up the next morning with a wicked sunburn. Throw in a proclivity for heat stroke and frankly, it's a miracle I survived my travels before I started packing a sunhat regardless of destination! Not only do sunhats protect you from UV damage that could lead to skin cancer, but they also help me regulate my body temperature in hot weather so I can stay out in the sun longer and really enjoy myself.
If you're participating in an active outdoor activity like hiking or kayaking, I definitely recommend a sunhat with an adjustable chin strap. No, it's not a fashionable look, but trust me, the benefits of not having to chase your hat down a mountainside far outweigh the dorky photos.
With so many packable, lightweight sunhats on the market these days (I especially like one from Wallaroo) there's no reason not to toss one into your suitcase. Just pop your sunhat on each morning and forget about it – your whole day and the trip will go better with it on!  
---
Conclusion
In a nutshell, there is always a memorable moment associated with gears during our travels. Some save us from unavoidable circumstances while some at times disappoint us. Which one have you experienced? I would love to read your story in the comments.
Among the list, I have used and still use the sun hat, sleeping bag, rucksack, microfiber towel, poncho, the MI power bank and headlamp. I intend to buy the rest very soon. I have also bought the flat water-resistant fanny pack recently.
These are one of the must-have travel items for India. Have you used any of these travel essentials?
Disclosure: The post contains affiliate links to Amazon (IN). If you purchase by clicking through the links, I will earn a little at no extra cost to you.