India's geographical diversity allows it to be one of the hubs of adventure activities.
India is blessed with the Himalayas stretched from its north to northeast of India, the evergreen western ghats and eastern ghats, the deserts in the west, the Arabian Sea, the Bay of Bengal and the Indian Ocean to its south.
Each of the above topography bestows us with abundant scope for experiencing adventure amidst nature.
Best Adventure Places in India
Here's a list of the 13 best adventure places in India recommended by travel bloggers who love adventure and have been to these destinations. You may also want to read this guide to the 26 Most Adventurous Cities in the World.
North India
Chitkul, Himachal Pradesh
Recommended Soujanya from The Spicy Journey
Chitkul village, located in the Kinnaur Valley district of Himachal Pradesh is one of the most offbeat, hard-to-reach and adventurous places in India. Not to mention how scenic and peaceful it is. Just reaching Chitkul, which is at an elevation of 3450 m, is an experience in itself. Most people coming here choose to take a road trip from Delhi to Chitkul.
To get here, one will have to first arrive at Delhi or Shimla directly. From here, hire a cab/ rent a car or bike/ take a bus to Reckong Peo-Sangla-Chikul. The road from Sangla to Chitkul is treacherous, narrow, and hard to navigate. Once here, visitors should ideally spend at least 1-2 nights at a local homestay or at Zostel – a backpacker hostel.
Given that there is almost no connectivity here, visitors can spend their time hiking around the village, climbing the flag peak which is visible from the village or doing one of the longer treks like the Lamkhaga Pass trek. Another great thing to do in Chitkul is to take a long walk up to the Indo-Tibet border checkpoint. It's important to note that one must get acclimated before heading to Chitkul so as to avoid getting acute mountain sickness. 
Kasol, Himachal Pradesh
Recommended By Abhishek from Misfit Wanderers
Some say it's a stoner's paradise; others can't stop praising its natural beauty. Nestled in the splendid Himalayas, Kasol, the mini Israel of India, is many things for many minds. But one thing is for sure it is an adventure spot.
Kheerganga trek, one of the most famous treks in India, is just around Kasol.
Further, there are certain adventure activities that you can do in and around Kasol. Here's the list:
Riverside camping along the Parvati River,
Trek to Kheerganga, Tosh, and Malana villages,
White water river rafting in Parvati River,
Paragliding in Solang Valley,
Biking from Kasol to Spiti Valley.
The best time to do these activities is in summer as in winter most activities get banned by authorities. 
To reach Kasol,  you can easily catch a bus to Kasol from Delhi's Kashmiri Gate ISBT or get on a plane — the nearest airport is Bhuntar. The railway is not feasible here; however, the nearest railway station is Joginder Nagar, about 144 km.
While you're in Kasol, don't forget to indulge in delicious Israeli cuisine. You'll find numerous cafes and Israeli people in the market to spend your time. Just keep in mind that you respect their customs and traditions.
Here are some suggestions for accommodation in Kasol- Parvati Kuteer, The Hillside, Pahadi Rovers & Whoopers Hostel.
Bir, Himachal Pradesh
Recommended By Ipsita from Nomad En Route
Situated 60 km away from Dharamshala, Bir is a tiny hamlet dotted with Buddhist monasteries. Being the second-highest paragliding spot in the world, Bir attracts the attention of adventure seekers from all over the world. Bir also opens up to Himalayan treks, the most famous being Rajgundha Trek.
The first week of October to mid-December, in between the receding monsoon and the advent of heavy winter, the paragliding spree flares up in the sky, amid the beautiful sunsets. The flying takes off from Billing, 15 km away from Bir, and ends in 'The Landing Site'. One can enjoy the panoramic view of Bir-Billing from the clouds and the fine stretch of valleys underneath.
Bir is well connected via railways, roadways and airways. Regular govt-run buses connect Bir to all the major cities. The nearest biggest Railway Station is in Pathankot, 142 km away, apart from the nearest local station, Ahju Railway Station, 3 km from Bir. The nearest airport is Kangra Airport, 68 km away.
Plenty of options for accommodation are available. For budget travellers, Hipostel Bir, The Trippy Tribe, and The Bunker Bir are recommended.
Siddu, Rice Babru, and Seera (Himachali Desert) – are the Himachali treats that must be tried out in Bir. Cafe Buransh is one of the few cafes serving local food. Also, a variety of Tibetan food, such as Thenthuk, Aloo Siri, and Tibetan Bread, is served in the local eateries. Don't forget to try out Tibetan Tea.
East India
Havelock, Andaman and Nicobar Islands
Recommended By Avantika from Wayward Wayfarer
Havelock is one of the many islands that make up the archipelago of the Andaman and Nicobar Islands, off the east coast of the Indian mainland. Havelock is located in the South Andaman District of the Andaman and Nicobar Islands Union Territory and is a great place for adventure enthusiasts to get their game on!
The most obvious adventure activities include scuba diving. Whether it is a full-fledged course or a try dive, there are plenty of opportunities to choose from here. Apart from exploring the various scuba diving sites around Havelock including Johnny's Gorge and Dickson's Pinnacle, freediving is another sport that can be tried here. Havelock is home to the Andaman and Nicobar Islands' only freediving instructor and it is truly a marvel to explore the depths in a single breath.
Other adventure activities to try out here include parasailing and kayaking – especially the night kayaking where participants can tread through bioluminescent waters in the dark on their kayaks!
Though the peak season in Havelock Island goes from November until January, usually February to April is the best time to try out these activities as the wind disturbances clear out and the waters become magically calm with great visibility.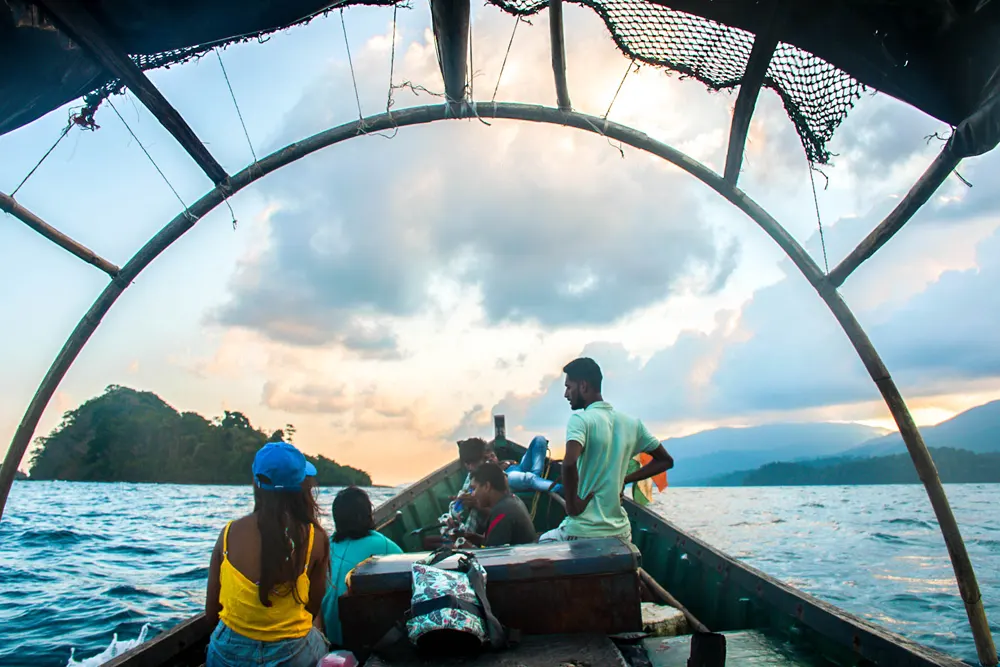 The easiest way to reach Havelock is to hop on one of the daily ferries running between Port Blair – the capital of Andaman and Nicobar Islands. Port Blair has an international airport with good connectivity to most cities across India.
There are several places to stay in Havelock right from the most luxurious of resorts – to cheap, backpacker hostels and resorts. TSG Blue Resort is a great luxurious stay. For more budget-friendly options, consider Green Imperial Resort, Coco N Huts Beach Resort and Green Valley Resort.
There are also several cafes that make lip-smacking seafood and other global dishes. Some worth trying cafes in Havelock include Kathmandu Cafe, Full Moon Cafe and Green Imperial Cafe.
Northeast India
Anini, Arunachal Pradesh
Recommended by Joydeep from The Gypsy Chiring
Anini, the district headquarter of Dibang Valley in Arunachal Pradesh, ought to be one of the most adventurous places in India. It is blessed by the Eastern Himalayas, the meandering Dri River and Mathun River and pristine landscapes.
The Seven Lakes Trek, Jawru Valley Trek, and Dri Valley Trek are new offbeat treks of Northeast India and each of these starts from Anini. Apart from that, River Rafting, Camping, and hiking are other adventure activities that can be done in Anini, Arunachal Pradesh.
The best time to visit Anini is from August to March. During August and September, the vibrant flowers pink, blue and yellow bloom in the mountains. It serves as a perfect visual retreat during the treks.
How to reach Anini? To reach Anini, you have to reach Tinsukia town in Assam. Buses ply to Anini early morning from Tinsukia. The nearest airport is Mohanbari Airport in Dibrugarh, Assam.
In Anini, you can stay at Takin Homestay, Theko Tayu Homesta & Anini Hut Homestay. There are a few other government tourist guest houses and bungalows too.
If you are in Anini, you should definitely try the traditional dishes of the Mishmis such as Chambai, Ashumbi-hi, Arupe-hi, Anunu and Phohi.
Kohima, Nagaland
Recommended by Joydeep from The Gypsy Chiring
Kohima is relatively a lesser-known hill station in India. It is the capital of the northeastern state of Nagaland. Located about 1444 m above sea level, Kohima is surrounded by high hills and beautiful landscapes.
If you are wondering about the adventurous things to do in Kohima or in its outskirts, you can start with the trek to Dzukou Valley. Dzuko or Dziiko Valley is one of the most popular treks in India. Its unique vegetation of bamboo shrubs, uniform hillocks, the peaceful river and the pink Dzukou lily which blooms only in the valley are some of the reasons why adventure lovers trek to Dzukou Valley.
The second-highest peak of Nagaland- Mt. Japfu is also located just 15 km from Kohima. Pulie Badze Trek, Mt. Tempfii Trek and the Khonoma trail to the Western part of Dzukou Valley are other off-beat and scenic treks in Nagaland that you can go from Kohima.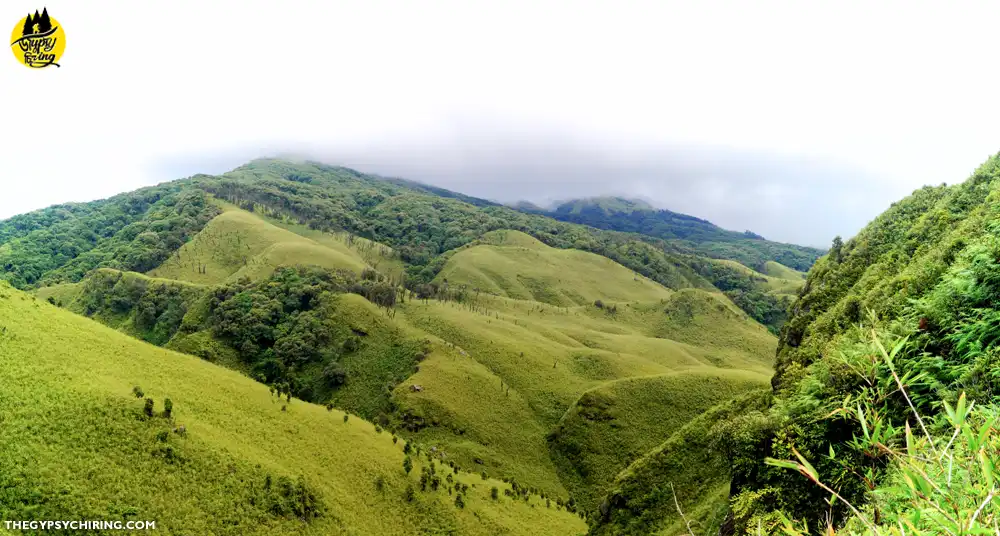 The best time to visit Kohima for the treks is during winter for snow, March for rhododendrons, and April to August for vibrant flowers.
You can reach Kohima by hiring cars and sumo vehicles from Dimapur. The nearest railway station and regional airport are located in Dimapur about 70 km from Kohima. You can also board public buses and shared-taxi or sumos from Dimapur Railway Station.
At Kohima town, you can stay in Morung Lodge & Homestay and Central Guest House. For luxury hotels, Hotel Japfu is a good option.
Visit the Morung Kitchen, the Bamboo Shoot Restaurant and Ozone Cafe in Kohima for both traditional Naga dishes and other cuisines.
To experience the cultural diversity of Nagaland, attend the Hornbill Festival organised annually from the 1st of Dec to the 10th of December at Kisama Heritage Village near Kohima.
Mawsynram, Meghalaya
Recommended by Joydeep from The Gypsy Chiring
Mawsynram is the wettest place on earth. It is located in the East Khasi Hills district of the northeastern state of Meghalaya in India.
The adventure activities- caving, chasing waterfalls, river canyoning, kayaking and hiking can be done in Mawsynram. The most popular tourist spot in Mawsynram is Mawlyngbna. Other adventure spots include the cave exploration of Krem Mawpun and Krem Mawjymbuin. Krem Puri – the longest sandstone cave in the world is also located in Mawsynram.
At Mawlyngbna, I highly recommend you do the river canyoning. River canyoning in Mawlyngbna is an adventurous combination of cliff jumping, swimming, waterfall rappelling, and kayaking in the Umkhakoi River.
The best time to visit Mawsynram for adventure activities is post-monsoon i.e. September to April. During monsoons, caving might become riskier due to high rain and increased flow of water.
You can reach Mawsynram by hiring cars from the state capital Shillong. Public buses and shared sumo vehicles can also be boarded at Shillong. The nearest regional airport is Shillong airport located about 30 km from Shillong city. Guwahati in Assam is the nearest railway station.
As most of the adventure activities can be done in Mawlyngbna, it is best to stay at Mawlyngbna Traveller's Nest.
Sohra (Cherrapunji), Meghalaya
Recommended by Joydeep from The Gypsy Chiring
Sohra is a misty town on the India-Bangladesh border in the district of East Khasi Hills of Meghalaya, India. The British named it Cherrapunji during the 19th century. As historically, Sohra was the capital of a Khasi Tribal Kingdom, the local name has been reused replacing Cherrapunji. Sohra receives the 2nd highest rainfall in the world.
Sohra or Cherrapunji has always been a popular tourist spot. Ziplining, cave exploration, trekking to double-decker living root bridges, camping, swimming, and hiking to waterfalls are the main adventure activities in Sohra. For a caving adventure, you can visit the Krem Mawmluh, Mawsmai Caves and Arwah Caves in Cherrapunji. Sohra in Meghalaya can be regarded as one of the best places to visit for adventure in India.
Hiking to the Double Decker Living Root Bridge in Nongriat Village of Sohra leads to the Rainbow Waterfalls. It is a scenic trek through hanging bridges, blue transparent natural pools and green hills.
Ziplining can be done at Mawkdok Dympep Valley near Cherrapunji. You can also hike to the Seven Sisters Waterfalls and Nohkalikai Waterfall in Sohra.
The best time to visit Sohra for adventure is post-monsoon months. As Cherrapunji is a high-rainfall area, it is covered by clouds and mist during monsoons.
Polo Orchid Resort in Cherrapunji provides you with a luxurious experience. Glance over the Seven Sister Falls and the lowlands of Bangladesh from the resort. Other recommendations for accommodation include – Coniferous Resort, Ibankordor Jungle Resort and Saimika (Sa-I-Mika) Resort.
Haflong, Assam
Recommended by Joydeep from The Gypsy Chiring
Did you know Assam has a hill station? Haflong, the one and only hill station in Assam is the district headquarters of Dima Hasao District. Haflong has an elevation of 2300 ft and is home to a number of ethnic groups- Dimasa Cachari, Kuki, Hmar, Hrangkhol, Biate, Jeme-Naga, Hrangkhol, Karbi, Khelma, Jaintia and Vaiphei.
Haflong ought to be considered one of the best adventure destinations in India and in Assam. The reason being it has the scope for adventure activities like paragliding, kayaking, rafting, trekking and more.
Tumjang Peak Pictures
Sunset in Mt. Tumjang in Haflong
You can trek to the highest peak of Assam- Mt. Tumjang (1866m) near Haflong. Tumjang Peak is also known as Sielkal Peak. Paragliding is done at Gunjung Village about 30 km from Haflong. You can contact the Paragliding Association of Assam for other paragliding spots in Assam. Here's a video of a Tandem paragliding spot in Gujung, Haflong.
Samparidisa Village is considered one of the cleanest villages in Assam. The hike to Bendao Baglai Waterfall starts from Samparidisa Village which is located around 18 km from Haflong.
The best time to visit Haflong is during winters and monsoons.
Board the Vistadome coaches from Guwahati Railway Station to the New Haflong Station to enjoy the scenic landscapes. By road, you can reach Haflong via two routes: Guwahati-Lumding-Haflong and Guwahati-Shillong-Silchar-Haflong. Silchar has the nearest airport.
Hamsmaidi Homestay, Nhoshring Guest House and Hotel Elite are budget-friendly accommodations in Haflong. For a luxurious experience, you can stay at Hotel Landmark.
Guwahati, Assam
Recommended by Joydeep from The Gypsy Chiring
Previously Gauhati, Guwahati is the largest city in Northeast India. Dispur, the capital of Assam, is located within Guwahati city. It is also known as the gateway to the northeast region of India. Guwahati is well connected via all means of transport to the other 6 states of northeast India. The city is blessed by the river Brahmaputra and the hills surrounding it.
Guwahati is one of the best adventure spots in Assam. The Garbhanga Forest Hike to Theopani Waterfall and the Amchang Wildlife Sanctuary trek are two offbeat hiking trails in Guwahati.
You can attend the rock-climbing and adventure camps organised by Assam Mountaineering Association, Global Adventure Association and other adventure organizations in Guwahati. Panacea Village Resort provides zip-lining adventures in the outskirts of the city.
Rock Climbing in Guwahati
The best time to do adventure activities in Guwahati is from October to March. The adventure training camps are annually organised on Sundays in the months of October, November and December.
For five-star luxury facilities, you can stay at Radisson Blue, Vivanta by Taj and Novotel in Guwahati. Budget-friendly hotels and campsites are also available in Guwahati.
LGBI Airport, the only international airport in northeast India is in Guwahati, Assam. It is located about 23 km from the main town. There are two railway stations in Guwahati- Guwahati Railway Station and Kamakhya Railway Station.
South India
Chikmagalur, Karnataka
Recommended by Jessica from Uprooted Traveler
Chikmagalur is a lush district of Karnataka, located about four and a half hours west of Bangalore.
If you're looking for an adventurous activity, consider hiking Mullayanagiri, one of the highest peaks in Karnataka at 2000 meters. Once you hike your way to the top of the mountain, not only will you find spectacular views, but also a small picturesque temple dedicated to Lord Shiva.
If you're looking for some non-trekking kinds of adventure, try your hand at driving a four-wheel-drive car down a deeply potholed road to enjoy Hebbe Falls, a dazzling waterfall that cascades 169 meters down a cliff.
Alternatively, you can book a rafting trip down the Bhadra River, which will not only get your adrenaline pumping but will also provide stunning views of Chikmagalur's jungle. 
Chikmagalur is pleasant to visit year-round but is particularly lovely in April and early May when the temperatures are a balmy 32 to 35 degrees Celsius.
For a place to call your home base, consider staying at one of the many tea and coffee plantations that offer homestays, like Halli Berri. Here, you'll wake up to views of the Baba Budan mountains and be able to start your day with a delicious cup of coffee produced on the farm.
Dandeli, Karnataka
Recommended by Raksha from Solopassport
Dandeli is one of the most adventurous towns in Karnataka state. The town is a natural habitat for wildlife and is the second largest wildlife sanctuary, designated as a tiger reserve. The forest also has an abundant variety of birds and reptiles. And hence, a jungle jeep safari is a must when visiting Dandeli to see these spectacular wild animals and birds. One can also take a walk in the forest to see and photograph the various species of birds.
Dandeli is on the banks of River Kali, which is an amazing place to do white-water rafting. With around 10 rapids of 3+ grades, the activity provides the adrenaline rush required for adventurous junkies. The rafting is for around 9 kilometres.
Another adventurous activity to do in Dandeli is to take a coracle ride along the river. The river has freshwater crocodiles, and a coracle ride is a great way to look for them.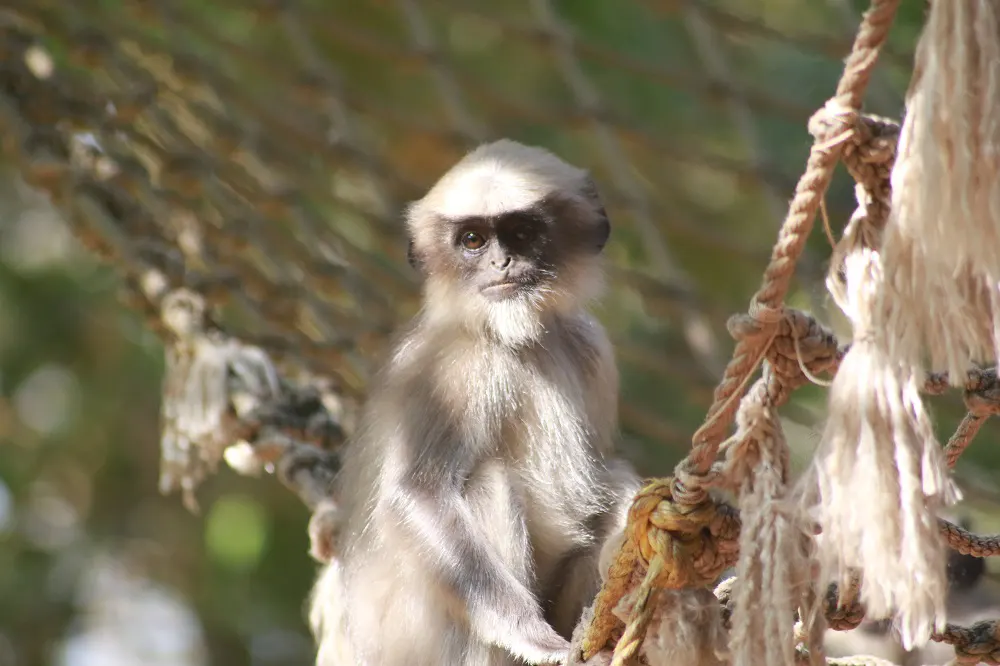 The best time to visit Dandeli is between the months of October and May.
There are many homestays and resorts in Dandeli that cater for all kinds of travellers. Kali Wilderness Camp by Jungle Lodges is an excellent place to stay. The resort charges including all the meals and the food provided are very delicious. One needs around 4 to 5 days to enjoy and explore what Dandeli has to offer. 
Alleppey, Kerala
Recommended by Ishani Nath from Buoyant Lifestyles
Kerala, located on the Malabar coast of India is a perfect travel destination for adventure lovers. From pristine beaches to enchanting hill stations, Kerala has everything in store to quench your wanderlust.
Houseboat Cruise is one of the most popular and loved tourist attractions in the backwaters of Alleppey in Kerala. The boarding point of the houseboat is the Alleppey Fishing Point and the nearest railway station is just 5 km away. For the cruise, there are two options- one is a day cruise that continues for around 3-6 hours and costs around 750 INR to 1500 INR. The other option is booking the entire houseboat for a night which is highly recommended.
Once in Alleppey, you can book a houseboat as per your budget and comfort. These luxurious houseboats have a bedroom, a common area, a dining space, a kitchen, a bathroom and a deck where you can relax. The cruise starts at 12 pm and ends the next day at around 11 am. The price range starts from 10000 INR depending on the facility and number of rooms in the houseboat.
The menu is generally fixed but can be customized which includes breakfast, lunch and dinner both have quite a lot of dishes with fish and meat cooked in typical Kerala style, evening snacks and tea. You must try the famous Banana chips and local fish fry. 
The best time to visit Alleppey is between October to May. From the houseboat you can enjoy the breathtaking view of the backwaters, small villages by the bank, beautiful canals and the sunset are to die for. Along with houseboats you can also enjoy Shikara rides, motorboat rides, canoeing etc. 
---
Which of the above most adventurous cities in India have you visited so far?
I would love to know about your experiences and which according to you are the best places to visit in India for adventure. Do share in the comments if you would like to add more adventure tourism destinations in India.
Disclosure: The post contains affiliate links.